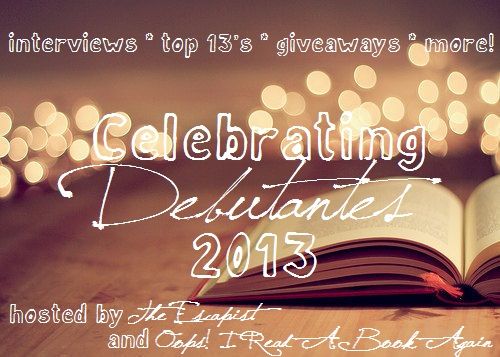 Happy 2014 everyone! I'm gonna show some Filipino love by featuring a debut author from the Philippines the first day of the year. Let's all welcome, ANNE PLAZA!
About Anne Plaza
Anne Plaza has a degree in Psychology, but has actively pursued a career in writing in her previous work as a reporter and online editor. She currently works in the field of marketing communications and spends most of her time writing fiction (while not on the lookout for the nearest cupcake and cronut store). Aside from writing, she loves to read contemporary romance, young adult, fantasy, and historical fiction. She also collects stamps and postcards, and loves everything about cats. Anne is based in Quezon City, Philippines. In Over Her Head is her first published work in English.

Blog | Twitter | Facebook
THIRTEEN THINGS YOU MIGHT NOT KNOW ABOUT ANNE PLAZA

1. I love sweets. A lot. Especially chocolates.

2. I used to cosplay back in 2001. I thought I'd cosplay forever, but real life got in the way. It has now been been years since I last attended an anime/cosplay convention. Although I'm not active in the community anymore, I still keep in touch with my good friends (who still cosplay to this day).

3. My favorite anime is Magic Knight Rayearth (followed by Sailormoon and X/1999).

4. I've been a National Novel Writing Month (NaNoWriMo) participant for over 5 years, but I've only "won" thrice, including this year.

5. I usually gravitate to book stores and cafes when I go to malls. And I always check out the Filipiniana section for interesting local reads.

6. I collect postcards of universities all over the world and have a growing collection of cat stamps.

7. Although I like reading books on my Kindle, I mostly buy physical books written by Filipino authors.

8. I used to be an avid coffee drinker, but now I only drink it on occasion. I've switched to drinking teh-o (Lipton Yellow Label tea with a bit of sugar) since I got back on a trip from Singapore last September.

9. When I wrote my first novella, In Over Her Head, I had qualms about my plot. It was more like self-doubt on whether I'd be read or if my story matters.

10. I studied the Korean language (Hangeul), but I've forgotten most of the stuff I learned. Eeep!

11. I like riding bicycles (but not mountain bikes). It makes me feel like a kid again.

12. I've always wondered what it's like to work as a DJ in a radio station. But I tend to stutter and ramble when I speak, so I just poured that frustration in my book (one of the characters is a DJ).
13. I used to be a dog person, but ever since my sister brought a cat in our household, I've been a sucker for felines. I still love our dogs, though. But cats...yes.
***
Title: In Over Her Head
Author: Anne Plaza
Date of Publication: October 24, 2013
All she wants is to get even...

Erika Apostol's quiet and unassuming life gets disrupted when she learns that Richard Javier, the very same person who broke her heart many years ago, is now back in the country. Her world is turned upside down as old feelings she thought were buried resurface to haunt her once more.

Determined to give Richard a dose of his own medicine, Erika finds herself involved in an outrageous plan devised by her friends. They enlist the help of Jerome Gonzales, an attractive and charismatic DJ (with a playboy reputation), to pose as her significant other.

As the plan goes in full swing, Erika discovers Richard's jealous side, and that there's something more to Jerome than meets the eye. Will this grand charade work out the way it should, or will she be left with nothing in the end?
Purchase from Amazon | Smashwords
Giveaway

Anne is giving away 3 ecopies of IN OVER HER HEAD, open internationally. Good luck!
a Rafflecopter giveaway

Thank you Anne for celebrating your debut year with us! Come back tomorrow here at Oops! I Read A Book Again as Kieran Larwood visits us! Now, go on to Michelle's blog for her feature on Aubrey Rose!
Are you a 2014 debut author? Are you interested in participating for Celebrating Debutantes 2014? Fill out this form!