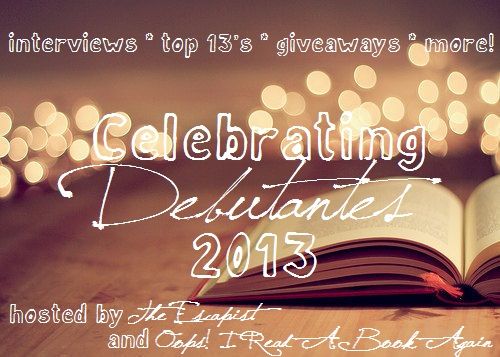 I've been hearing TONS of great things about this novel. Let's all welcome the author of the Relic, RENEE COLLINS!
I'm a YA writer who loves historical settings, magic, and semi-tragic romance. I'm represented by the amazing Mollie Glick of Foundry Literary + Media.

Website | Blog | Twitter | Facebook
THIRTEEN THINGS YOU MIGHT NOT KNOW ABOUT RENEE COLLINS

1. I'm a twin. (The evil twin, in case you were wondering.)

2. I grew up in Hawaii and I know how to surf.

3. I spent ever summer break (the ENTIRE summer) traveling the United States and Canada in our family motor home. As a result, I've visited 49 states (Alaska! You've eluded me!) and 11 Canadian provinces.

4. After growing up in Hawaii, I now live in the desert. It's kind of sad. That said, the gorgeous red rock cliffs near my house did help to inspire RELIC.

5. I've always been a writer, though in High School, I mostly wrote angsty teenage love poetry.

6. RELIC is my first published novel, but fifth completed novel.

7. When I got my book deal, I celebrated by going to Chili's with my family. It was an occasion that called for Texas Cheese Fries.

8. Dr Pepper is my writing fuel. Paired with popcorn, there's nothing better.

9. I don't have a writing routine, but I do have a favorite spot on the couch where I like to write.

10. I listen to film scores as I write. Some of my favorite composers are James Horner, Hans Zimmer, James Newton Howard, Anne Dudley and, of course, John Williams.

11. I'm a movie fan. I'd rather watch a film over t.v. any time.

12. I just got a kitty. She makes me laugh.

13. I'm a hopeless dreamer. Cheesy as it sounds, it's true.
***
Title: Relic
Author: Renee Collins
Publisher: Entangled Teen
Date of Publication: August 27, 2013
After a raging fire consumes her town and kills her parents, Maggie Davis is on her own to protect her younger sister and survive best she can in the Colorado town of Burning Mesa. In Maggie's world, the bones of long-extinct magical creatures such as dragons and sirens are mined and traded for their residual magical elements, and harnessing these relics' powers allows the user to wield fire, turn invisible, or heal even the worst of injuries.

Working in a local saloon, Maggie befriends the spirited showgirl Adelaide and falls for the roguish cowboy Landon. But when she proves to have a particular skill at harnessing the relics' powers, Maggie is whisked away to the glamorous hacienda of Álvar Castilla, the wealthy young relic baron who runs Burning Mesa. Though his intentions aren't always clear, Álvar trains Maggie in the world of relic magic. But when the mysterious fires reappear in their neighboring towns, Maggie must discover who is channeling relic magic for evil before it's too late.

Relic is a thrilling adventure set in a wholly unique world, and a spell-binding story of love, trust, and the power of good.
Giveaway

Renee is giving away a copy of RELIC! Open to US/Can residents only. Good luck!
a Rafflecopter giveaway

Thank you Renee for celebrating your debut year with us! Come back tomorrow here at Oops! I Read A Book Again as Susan Bradley visits us! Now, go on to Michelle's blog for her feature on Suzanne Sutherland!
Are you a 2014 debut author? Are you interested in participating for Celebrating Debutantes 2014? Fill out this form!