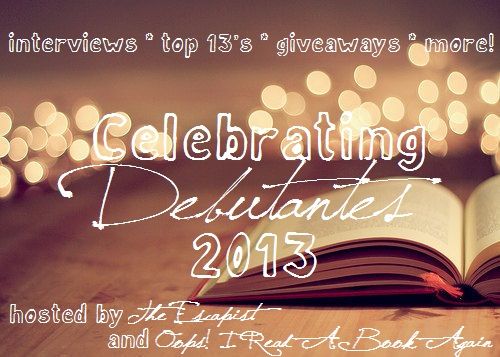 Rebekah Crane fell in love with YA literature while studying Secondary English Education at Ohio University, but it wasn't until ten years and two daughters later that she started to write it. Inspired by her past students, growing up in Cleveland with its fabulous musical theater community, and music of all kinds (particularly the Avett Brothers), she created PLAYING NICE. It is her first published novel, but having an unbridled imagination, it's not the only fantasy world she's lived in (just ask her husband). ASPEN, her second YA creation, is set to release in January 2014. She now lives in Colorado, where the altitude only enhances the experience.

Website | Twitter | Facebook | Tumblr


INTERVIEW WITH REBEKAH CRANE
What do you feel about the number '13'?

It's a great number to me! Not only did my first book come out this year, but I also turned 33, which is supposed to be the best year of your life... so far, it's been a pretty damn good year.
What's the best thing that happened after your book was published?

People read it. Seriously. I still get totally geeked-out that people actually have my book sitting on their bookshelf or on their e-reader. That's the BEST part.
How did you celebrate the publishing of your book?

My husband and I high-fived. I'm totally lame! We didn't really do anything!
Do you read reviews of your book?

In the beginning, I did. I stalked Amazon and Goodreads. Now, I don't. It's a tough balance, but I avert my eyes whenever possible. At some point, you have to come to terms with the fact that some people will love your work and some people will not. And that's okay.
What is your best or most unforgettable moment with a fan?

I've received emails from people ranging from 13 to 65 telling me that PLAYING NICE made a great impact on them, made them reflect on their own lives. It's really wonderful to know that. Also, I spoke to a classroom of 45 third and fourth graders and afterward they all wanted my autograph. I'm so NOT cool enough to sign autographs!
Was there any book/s from other debut author of 2013 that you loved?

Right now, I'm in the middle of reading DOON by Lorie Langdon and Carey Corp and I love it. It's Brigedoon re-imagined. Genius.
Are you interested in writing in a different genre or for a different audience?

I flirt sometimes with developing an New Adult book. A dark comedy, which seems to be my specialty. But as of right now... it's just an idea.
Share us one embarrassing moment you've had.
Just one?! I've had so many in my life. I've fallen out of a cab in New York City. I've fallen down so many staircases, I've lost count. I have terrible depth perception, so I run into door jams all the time, too! I'm your average klutz.

Favorite color? Magenta
Favorite movie? The Sound of Music, the greatest movie ever made.
Favorite ice cream flavor? Peanut butter and chocolate
Favorite song? The Salvation Song by The Avett Brothers
Ultimate celebrity crush (dead or alive)?
Hmm... this is a hard one. I get more wrapped up in the characters people play, so can I say Mr. Darcy, even though he's a fake person. He feels real to me. :)
What's next for you?

My second YA book, ASPEN, comes out in 2014! It's quite a departure from PLAYING NICE, so I'm really excited for people to read it. You can find it on Goodreads here: https://www.goodreads.com/book/show/17608141-aspen And after that... we'll see!
***
Title: Playing Nice
Author: Rebekah Crane
Publisher: In This Together Media
Date of Publication: January 3, 2013
Martina "Marty" Hart is really nice. At least, that's what people think.

It's Marty's junior year at Minster High. Minster's a small town where making great grades, smiling pretty, helping old people, running the new-student Welcoming Committee, and putting up decorations for all the dances--including the totally awful Hot Shot fall hunting celebration--gets you ... what? Marty's not sure. Instead of dreaming about a sororities-and-frats future at nearby University of Michigan, she's restless, searching for a way out of the box her controlling mother and best frenemy Sarah have locked her in. When Lil--don't call her Lily!--Hatfield transfers to Minster, Marty gets her chance. Lil's different. She smokes, wears black, listens to angry punk records, and lives in a weird trailer with her mother. Lil has secrets--secrets that make her a target for all the gossiping and online bullying Minster can muster. But so does Marty. And Marty sees something different in Lil. Something honest.

Something real.

PLAYING NICE is the achingly true story of a girl who's been following the rules for so long she's forgotten who she was when she started. It's about falling in love with the wrong people and not seeing the right ones, about the moments in life when you step out of line, take a chance ... and begin to break free.

Rebekah is giving away 3 sets containing ebooks of PLAYING NICE and ASPEN! Open internationally. Good luck!
a Rafflecopter giveaway

Thank you Rebekah for celebrating your debut year with us! Come back tomorrow here at Oops! I Read A Book Again as Corey Ann Haydu visits us! Now, go on to Michelle's blog for her feature on Erin Richards!
Are you a 2014 debut author? Are you interested in participating for Celebrating Debutantes 2014? Fill out this form!