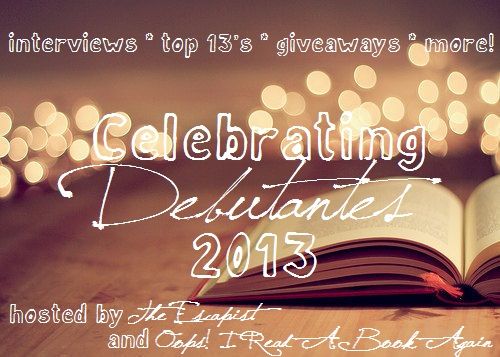 It's Christmas Eve! I have today the fashion blogger behind Girl in the Lens and the author of The Elites from Hot Key Books, NATASHA NGAN! (And oh my, ANDREW GARFIELD IS HER ULTIMATE CELEBRITY CRUSH INFINITE BROWNIE POINTS HEE.)
About Natasha Ngan
Hi! I'm Natasha, a 23 year old YA author from Hertfordshire, UK. I love books almost more than anything. I have always (only) wanted to be an author, and as cheesy as it sounds, I still can't believe that my dream has come true.
I am represented by Nicola Barr at Greene & Heaton.
I'm also a social media freelancer and co-owner and editor of fashion blog Girl in the Lens. If you're interested in fashion or photography (or just like looking at pretty pictures), why not check it out!

Website | Twitter

INTERVIEW WITH NATASHA NGAN
What do you feel about the number '13'?

For some strange reason, I love all odd numbers! So 13 is good in my books.
What's the best thing that happened after your book was published?

To hear readers enjoying it. It's all an author can hope for, that a story that means so much to you can connect with others, too. Just one person loving my book is enough for me.
How did you celebrate the publishing of your book?

I had a launch party, which was one of the best nights of my life. It was just wonderful celebrating with so many of my family and friends. But after that, things went back to normal! It's both an overwhelming and underwhelming feeling, having your book finally out in the wild, and I just had to get stuck into new projects to keep my mind off of it.
Do you read reviews of your book?

I do, which is probably not the best approach. But it's difficult when we spend so much of our time online, and it's so easy to access reviews. I can't help taking a look! I try not to worry too much about negative reviews though. It's hard, but you have to realise that once your book is out in the world, you no longer have control over it. People are completely free to dislike it. All you can do is keep writing, keep improving.
What is your best or most unforgettable moment with a fan?

Just talking to wonderful book bloggers like Amber and Hawwa on Twitter! They've really championed my book, and their tweets really make my day.
Was there any book/s from other debut author of 2013 that you loved?

So many! Fellow Hot Key author Laure Eve's Fearsome Dreamer is a beautiful book, completely unique and immersive, and I loved Amanda Sun's Ink for its wonderful Japan setting and gorgeous imagery.
Are you interested in writing in a different genre or for a different audience?

I'd love to write for younger children - middle grade and below. I have an idea for an illustrated book I'm currently working on! Most of my ideas are usually in the sci-fi/fantasy genres, as I love escaping reality and immersing myself in a fantastical world, but I do have a few contemporary and historical YA novel ideas I'd like to try.
Share us one embarrassing moment you've had.

Oh, so many. I am totally tactless and accident prone, so am always embarrassing myself. Last week at a yoga class, we were doing this side stretching move, and I accidentally brushed the crotch of the man next to me! That was pretty hilarious.

Favorite color? Red
Favorite movie? Anything Studio Ghibli.
Favorite ice cream flavor? Ben and Jerry's Baked Alaska.
Favorite song? Soldier On by Temper Trap.
Ultimate celebrity crush (dead or alive)? Andrew Garfield.
What's next for you?

More books! The Memory Keepers comes out next year, and I have an urban fantasy series planned for after that. Plus, I'll still be blogging over at my fashion and photography blog Girl in the Lens, so you can follow my adventures there!
***
Title: The Elites
Author: Natasha Ngan
Publisher: Hot Key Books
Date of Publication: September 5, 2013
'There is a rumour that the Elites don't bleed.'

Hundreds of years into the future, wars, riots, resource crises and rising sea-levels have destroyed the old civilisations. Only one city has survived: Neo-Babel, a city full of cultures – and racial tension.

Fifteen-year-old Silver is an Elite, a citizen of Neo-Babel chosen to guard the city due to her superior DNA. She'd never dream of leaving – but then she fails to prevent the assassination of Neo Babel's president, setting off a chain of events more shocking and devastating than she could ever have imagined. Forced to flee the city with her best friend Butterfly (a boy with genetically-enhanced wings), Silver will have to fight to find her family, uncover the truth about Neo-Babel and come to terms with her complicated feelings for Butterfly.


Packed full of adventure, romance, exoticism and the power of friendship, The Elites is a highly compelling and beautifully written novel from a supremely talented debut author.

Tasha is giving away one copy of THE ELITES! Open internationally. Good luck!
a Rafflecopter giveaway

Thank you Tasha for celebrating your debut year with us! Come back tomorrow here at Oops! I Read A Book Again as Lisa M. Basso visits us! Now, go on to Michelle's blog for her feature on Melanie Crowder!
Are you a 2014 debut author? Are you interested in participating for Celebrating Debutantes 2014? Fill out this form!