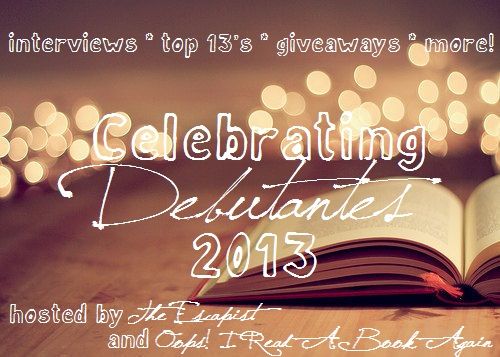 Merry Christmas to everyone who celebrates it! Today, I have the author of A Shimmer of Angels, LISA M. BASSO! And a giveaway of course!
About Lisa M. Basso
Lisa M. Basso was born and raised in San Francisco, California. She is a lover of books, video games, animals, and baking (not baking with animals though). As a child she would crawl into worlds of her own creation and get lost for hours. Her love for YA fiction started with a simple school reading assignment: S.E. Hinton's The Outsiders. When not reading or writing she can usually be found at home with The Best Boyfriend that Ever Lived ™ and her two darling (and sometimes evil) cats, Kitties A and B.

Blog | Twitter | Facebook
THIRTEEN THINGS YOU MIGHT NOT KNOW ABOUT LISA M. BASSO

1. I have a huge sweet-tooth, except when I'm editing. My editing snacks are usually of the salty variety.

2. I started writing in High School when my angsty teenage self swore no one understood me, so I created characters that had it worse off than I did, and I did even worse things to them.

3. I've heard some authors say they feel bad about treating their characters so badly, I do not. I enjoy putting my characters through their paces. I love upheaving their "normal" lives, throwing fear and danger at them, even killing their loved ones. Some people have called me cruel. I prefer thorough.

4. Whenever I can carve out the time, you can fine me on my PlayStation3. I've been gaming since I was a little kid, when my first Nintendo (yes, the original, and yes, I'm that old) controller fell into my hands, and I don't ever see myself wanting to stop.

5. I wrote and revised A SHIMMER OF ANGELS more than two years before Month9Books offered a publishing deal.

6. I'm a sucker for a pretty book cover (then again how many of us does this apply to? More than a few, I think).

7. My favorite part of writing is actually penning the first draft. Revisions are great, but nothing beats going on that journey first hand with your main character(s).

8. I hate bananas. With a passion. Seriously, the smell of them makes me nauseous. Ick.

9. I used to be addicted to coffee. About a year ago I switched to tea and never looked back. Now, I swear by green chai tea.

10. Fall is my favorite time of year. The rain, the changing of the colors, Halloween, Thanksgiving, boots (Yes, I said boots). None of it could get any better.

11. In the name of research, I'd do almost anything. Facing fears, trying new things, expanding my horizons, all things a writer needs to do to gain the experience to have something to actually write about.

12. One of my two cats is polydactyl (she has an extra claw that acts like a thumb).
13. I'm a horrible speller. Seriously, the dictionary is my friend.
***
Title: A Shimmer of Angels (Angel Sight #1)
Author: Lisa M. Basso
Publisher: Month9Books
Date of Publication: January 29, 2013
Sixteen-year-old Rayna sees angels, and has the medication and weekly therapy sessions to prove it. Now, in remission, Rayna starts fresh at a new school, lands a new job, and desperately tries for normalcy. She ignores signs that she may be slipping into the world she has tried so hard to climb out of. But these days, it's more than just hallucinations that keep Rayna up at night. Students are dying, and she may be the only one who can stop it. Can she keep her job, her sanity, and her friends from dying at the hands of angels she can't admit to seeing?
Purchase from Amazon | B&N | The Book Depository
Giveaway
Lisa is giving away a copy of A SHIMMER OF ANGELS! Open internationally. Good luck!
a Rafflecopter giveaway

Thank you Lisa for celebrating your debut year with us! Come back tomorrow here at Oops! I Read A Book Again as Mindee Arnett visits us! Now, go on to Michelle's blog for her feature on Tamera Wissinger!
Are you a 2014 debut author? Are you interested in participating for Celebrating Debutantes 2014? Fill out this form!