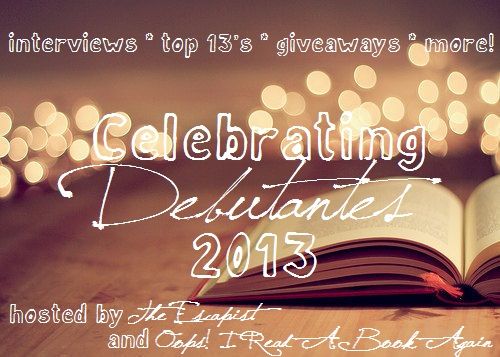 Lindsay Ribar grew up in New Jersey, where the only logical thing to do after high school was to move to New York. She majored in drama and English literature at NYU, and now works in book publishing, where she reads other people's novels by day and writes her own by night. She owns approximately twelve bazillion CD's, attends far too many concerts, and mainlines nerdy television shows like it's going out of style. She is fond of wine, Ireland, musicals, long walks around Manhattan, and the color blue.

Website | Twitter

INTERVIEW WITH LINDSAY RIBAR

What do you feel about the number '13'?

I feel very much like it is the number between 12 and 14. I also feel like it's the number of books I'm going to list for question #6!

What's the best thing that happened after your book was published?

I still think the best possible thing is that people are reading it. The fact that strangers are reading a story that I wrote still kind of blows my mind.

How did you celebrate the publishing of your book?

With a giant party at a bar! It was pretty awesome. Even more awesome was how I celebrated getting the book deal in the first place (two years before publication): by booking myself a cabin on The Rock Boat, which is a music festival on a cruise ship.

Do you read reviews of your book?

Absolutely. Every single one of them. Partly because no two people read a book the same way, and I like hearing every opinion out there, good or bad. Partly because, for me, the thought of not knowing what people are saying is way scarier than the thought of reading a horrible review.

What is your best or most unforgettable moment with a fan?

All of them! I still get that little twinge of excitement whenever a letter from a reader shows up in my inbox!

Was there any book/s from other debut author of 2013 that you loved?

Oh my goodness, yes. Here are just a few of them....

Red by Alison Cherry
Better Nate Than Ever by Tim Federle
Magic Marks the Spot by Caroline Carlson
OCD Love Story by Corey Ann Haydu
The Reece Malcolm List by Amy Spalding
Me, Him, Them, and It by Caela Carter
My Life After Now by Jessica Verdi
The Wig in the Window by Kristen Kittscher
The Path of Names by Ari Goelman
Between the Devil and the Deep Blue Sea by April Genevieve Tucholke
The Symptoms of My Insanity by Mindy Raf
Control by Lydia Kang

Gated by Amy Christine Parker

Are you interested in writing in a different genre or for a different audience?

Right now, I can't see myself writing anything other than YA, although that may change somewhere down the line. However, I'd love to write in different genres under the YA umbrella. Contemporary realistic, thriller, even mystery. So many possibilities!

Share us one embarrassing moment you've had.

Oh, I plead the fifth on this one.

Favorite color? Blue! All kinds of blue.
Favorite movie? Eternal Sunshine of the Spotless Mind
Favorite ice cream flavor? Mint chocolate chip.
Favorite song? "Lake of Silver Bells" by Carbon Leaf
Ultimate celebrity crush (dead or alive)? David Tennant. Yum.


What's next for you?

Well, The Fourth Wish, which is the sequel to The Art of Wishing, comes out on July 31 of next year. I'm really excited about it. And I'm currently working on a new book for Penguin, which is unrelated to the genie duology, but is still YA with a paranormal twist.
***
Title: The Art of Wishing (The Art of Wishing #1)
Author: Lindsay Ribar
Publisher: Dial Books for Young Readers
Date of Publication: March 21, 2013
He can grant her wishes, but only she can save his life.

Margo McKenna has a plan for just about everything, from landing the lead in her high school play to getting into a good college. So when she finds herself in possession of a genie's ring and the chance to make three wishes, she doesn't know what to do. Why should she put her life into someone else's hands?

But Oliver is more than just a genie -- he's also a sophomore at Margo's high school, and he's on the run from a murderer. As he and Margo grow closer, she discovers that it will take more than three wishes to save him.

A whole lot more.

Thank you Lindsay for celebrating your debut year with us! Come back tomorrow here at Oops! I Read A Book Again as Piers Torday visits us! Now, go on to Michelle's blog for her feature on Jessica Young!
Are you a 2014 debut author? Are you interested in participating for Celebrating Debutantes 2014? Fill out this form!