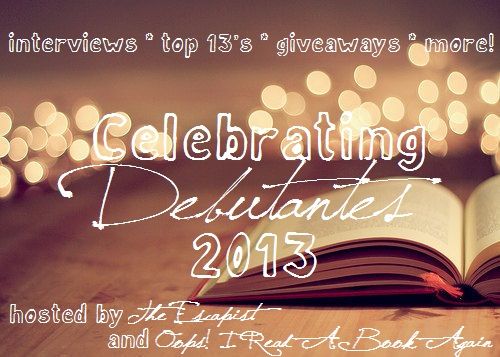 Let's all welcome the author of the fantastic Wild Awake, HILARY T. SMITH!
It is I, Hilary, formerly known as INTERN.
I wrote a novel! It is called WILD AWAKE, it is best read between the hours of midnight and 6 AM.
Website | Twitter
THIRTEEN THINGS YOU MIGHT NOT KNOW ABOUT HILARY T. SMITH
Since WILD AWAKE is my debut novel, here are 13 other "firsts."
1. The first full manuscript I ever wrote was called Greetings From the Space Pickle, when I was in tenth grade. I can't remember much about it except that it involved a toothbrush factory, a planet made of bubblegum, and much wackiness.
2. The first time I hitchhiked alone, my first ride was from a sweet couple who bought me ice cream and took me to see a seal colony.
3. The first vehicle I (co-)purchased was a blue camper van my friends and I named "El Sueno." We spent a summer driving it across Canada looking for trouble.
4. The first time I rode a bike with "grown-up" brakes, I crashed into a fire hydrant.
5. The first time I went on a multi-day hiking trip with my best friend, we ran out of water and thus drank Schnapps until we found someone to lend us a filter.
6. My first summer job was as a tour guide on a bus in Niagara Falls. "And here on the left is the Floral Clock, blah blah blah…"
7. My first year of highschool, my best friend and I formed a secret society whose purpose was to steal thumbtacks from bulletin boards. We kept them in a tackle box and sorted them by color.
8. My first pet was an iguana named (predictably) Iggy. He died of unknown causes after a month and a half.
9. The first CD I ever bought was Weird Al Yankovic's The Food Album. La-la-la-la-la-sagna…
10. My first grade teacher was a nun.
11. The first (and only) wild animal I ever ate was a quail that smacked into the window of my cabin.
12. My first medical emergency was getting stitches on my head after an ill-landed bounce on a trampoline.
13. My first title for WILD AWAKE was BICYCLE.
***
Title: Wild Awake
Author: Hilary T. Smith
Publisher: Katherine Tegen Books
Date of Publication: May 28, 2013
Things you earnestly believe will happen while your parents are away:




1. You will remember to water the azaleas.

2. You will take detailed, accurate messages.

3. You will call your older brother, Denny, if even the slightest thing goes wrong.

4. You and your best friend/bandmate Lukas will win Battle of the Bands.

5. Amid the thrill of victory, Lukas will finally realize you are the girl of his dreams.




Things that actually happen:




1. A stranger calls who says he knew your sister.

2. He says he has her stuff.

3. What stuff? Her stuff.

4. You tell him your parents won't be able to—

5. Sukey died five years ago; can't he—

6. You pick up a pen.

7. You scribble down the address.

8. You get on your bike and go.

9. Things . . . get a little crazy after that.*

*also, you fall in love, but not with Lukas.




Both exhilarating and wrenching, Hilary T. Smith's debut novel captures the messy glory of being alive, as seventeen-year-old Kiri Byrd discovers love, loss, chaos, and murder woven into a summer of music, madness, piercing heartbreak, and intoxicating joy.
Purchase from Amazon | B&N | The Book Depository
Giveaway

Hilary is giving away a copy of WILD AWAKE to one lucky US resident. Good luck!
a Rafflecopter giveaway
Thank you Hilary for celebrating your debut year with us! Come back tomorrow here at Oops! I Read A Book Again as Renee Collins visits us! Now, go on to Michelle's blog for her feature on Jessica Brooks!
Are you a 2014 debut author? Are you interested in participating for Celebrating Debutantes 2014? Fill out this form!