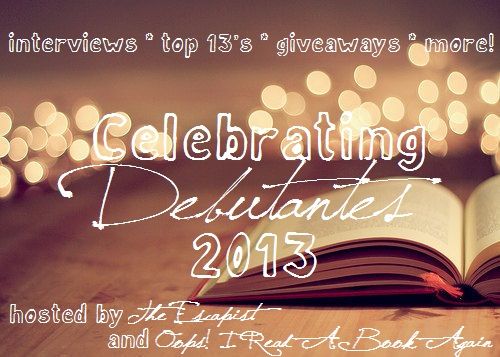 About Emil Ostrovski
I'm twenty-three.
Rather than give you a witty, self-deprecating account of the trials and tribulations of my twenty-three year old, suburban, upper-middle class, went-to-a-girl's-liberal-arts-college life, I'll admit that I haven't really done anything much worth reading about.
So in lieu of providing you with my biography, I will recommend that you read Desmond Tutu's. Here.
Why Desmond Tutu?
Well, I've always liked his name.

Website | Twitter
THIRTEEN THINGS YOU MIGHT NOT KNOW ABOUT EMIL OSTROVSKI

1. I have a black belt in Tae-Kwon-Do. Not because of any talent or particular dedication on my part, but just because I stuck around long enough. At a certain point, they just give you one, in the hope that you'll continue paying the 100 dollar a month membership fee indefinitely, out of—I don't know—some sense of gratitude, perhaps?
2. I have an I-phone, but kind of wish I didn't. I feel like I've lost the ability to just sit still
and do, well, nothing in particular. I think the ability to do nothing in particular is really
important for a writer, or, rather, for anyone really.

3. In the beginning of this year, I got laser corrective surgery done, and ever since my eyes have gotten tremendously needy. I have to use lubricating eye drops twice a day, when I wake up and when I go to bed. One could say my eyes simply demand to be lubricated.

4. As a kid, I once bought a wooden Katana on e-bay. A few days after it arrived, I was swinging it around in the sun-room and the chandelier got in my way.

5. I once broke into my own house via the second story bathroom window. Why not a first story window? Well, that wouldn't been much too easy. Lazy, even. That's no way to live.

6. In middle school, I had a birthday party at which a friend and I went outside to play a two-person manhunt in my forty-five degree angle backyard (my other friends were not in a manhunt-playing mood). The result? I tripped and fractured my arm. Happy birthday to me.

7. I think having a favorite color is silly.

8. I have the rare distinction of being rejected by my high school literary magazine. The story I submitted, about an American submarine Captain who had just received orders to participate in a tactical nuclear strike on Iran, was deemed "too political".

9. I've gotten into an accident with a parked car.

10. I've been bitten by a leech. I didn't notice until my Nepali guide ripped it off my leg.

11. Lists, schedules, itineraries, plans, and any other such artificial attempts to organize life into some semblance of comprehensibility and manageability stress me out terribly.

12. I once wrote an article for Vassar's college newspaper in which I cited a date that was 300 years off. Shortly thereafter, I decided journalism and its obsession with 'getting all the facts right' wasn't for me.

13. I love philosophy, because it's one of the only disciplines out there that has made me change my mind and alter the way I view, and think about the world.
***
Title: The Paradox of Vertical Flight
Author: Emil Ostrovski
Publisher: Greenwillow Books
Date of Publication: September 24, 2013
What happens when you put a suicidal eighteen-year-old philosophy student, his ex-girlfriend, his best friend, and his newborn baby in a truck and send them to Grandma's house? This debut novel by Emil Ostrovski will appeal to fans of John Green, Chris Crutcher, and Jay Asher.

On the morning of his eighteenth birthday, philosophy student and high school senior Jack Polovsky is somewhat seriously thinking of suicide when his cell phone rings. Jack's ex-girlfriend, Jess, has given birth, and Jack is the father. Jack hasn't spoken with Jess in about nine months—and she wants him to see the baby before he is adopted. The new teenage father kidnaps the baby, names him Socrates, stocks up on baby supplies at Wal-Mart, and hits the road with his best friend, Tommy, and the ex-girlfriend. As they head to Grandma's house (eluding the police at every turn), Jack tells baby Socrates about Homer, Troy, Aristotle, the real Socrates, and the Greek myths—because all stories spring from those stories, really. Even this one. Funny, heart-wrenching, and wholly original, this debut novel by Emil Ostrovski explores the nature of family, love, friendship, fate, fatherhood, and myth.
Purchase from Amazon | B&N | The Book Depository
Giveaway

Emil is giving away a copy of THE PARADOX OF VERTICAL FLIGHT to one lucky US resident. Good luck!
a Rafflecopter giveaway

Thank you Emil for celebrating your debut year with us! Come back tomorrow here at Oops! I Read A Book Again as Robin Constantine visits us! Now, go on to Michelle's blog for her feature on Jen McConnel!
Are you a 2014 debut author? Are you interested in participating for Celebrating Debutantes 2014? Fill out this form!