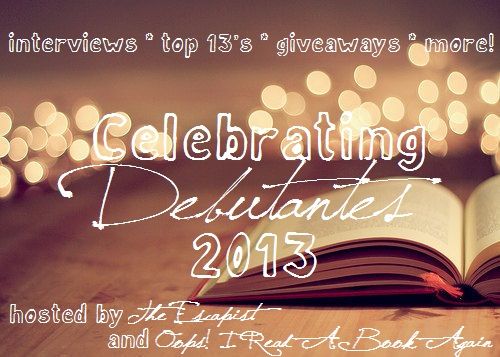 Let's all welcome the author of The Murmurings from Simon & Schuster, CARLY ANNE WEST!

Hey there! I'm glad you found me. My name's Carly Anne West. Have you ever tried to write a bio? It's hard. Like, really hard. I've narrowed some tidbits about me to a handful of bite-sized pieces that I'm hoping allows us to get to know each other a little better:
I grew up in Phoenix, Arizona, where I melted more than a few pair of shoes on the summer asphalt and swallowed buckets of chlorinated water over the course of several years of swimming.
After graduating with a BA from Arizona State University (fork 'em, Devils!), I moved to Nashville, Tennessee with my long time love and best friend Matt, then relocated again three years later to Oakland, California where I earned my Masters of Fine Arts in English & Creative Writing from Mills College.
In 2006, I somewhat scandalously eloped in San Francisco with aforementioned love and resided in Oakland for six more years, bordered by equal parts ocean and forest, with the snow not so far away.
In 2012, Matt and I (along with our new, awesome baby boy) relocated to Seattle, Washington. I now write amid the luxurious rain and evergreens.
I write for teens and for adults.

THIRTEEN THINGS YOU MIGHT NOT KNOW ABOUT CARLY ANNE WEST
1. I have an uncanny ability to memorize phone numbers. It's come in handy once or twice when I've lost my phone.

2. I swam competitively for nearly 12 years. Did you know you can sweat in water?

3. I once got egged getting off the school bus in junior high. Right in the eye. When a raw egg hits your eye, it feels sort of like a water balloon with jagged edges. To this day, I'm not super fond of school buses. Or eggs.

4. In college, I D.J.ed for our college radio station, which might have made me extremely cool but for that I was reluctant to say much on-air. So I stuck to reading the requisite public service announcements and played lots and lots and lots of music. I had two dedicated listeners who would call in every week to make requests. Hi Jay. Hi Jeff.

5. I lived in Nashville for three years, and for two of those years, I worked at a financial and business management company in the music industry. I met some pretty famous musicians in the process (and by "met," I mean I said "hi" and they said "hey" back.) They really do look different than ordinary folks. There's a polish about them.

6. While living in Nashville, I also once spotted Billy Rae Cyrus eating a cookie in the food court of one of the local malls.

7. I can memorize basically anything if it's put to music. I now possess such talents as a rote memorization of the preamble to the U.S. Constitution (thank you, School House Rocks) and the entire Greek Alphabet (thank you, 8th grade Language Arts).

8. I have an embarrassingly poor memory for important information. I regularly forget birthdays, for instance.

9. I found my first gray hair at 15 years old. No, strike that. A classmate found my first gray hair at 15 years old. And she found it loudly.

10. I can tap a single time step and a triple time step. For the life of me, I can't remember how to do a double time step.

11. I married my high school sweetheart. On occasion, that sort of thing happens.

12. Much of what I write turns out creepy, but a lot of my writing is otherwise simply bizarre. I tend toward a magical realism mentality that suggests absolutely nothing is out of the question when it comes to a scenario or fictional world.

13. I sort of specialize in random facts. I have a large pool of embarrassment from which to pull. Check out my About page.
***
Title: The Murmurings
Author: Carly Anne West
Publisher: Simon Pulse
Date of Publication: March 5, 2013
Everyone thinks Sophie's sister, Nell, went crazy. After all, she heard strange voices that drove her to commit suicide. But Sophie doesn't believe that Nell would take her own life, and she's convinced that Nell's doctor knows more than he's letting on.

As Sophie starts to piece together Nell's last days, every lead ends in a web of lies. And the deeper Sophie digs, the more danger she's in—because now she's hearing the same haunting whispers. Sophie's starting to think she's going crazy too. Or worse, that maybe she's not….
Purchase from Amazon | B&N | The Book Depository
Giveaway

Carly Anne is giving away a copy of THE MURMURINGS! Open internationally. Good luck!
a Rafflecopter giveaway

Thank you Carly Anne for celebrating your debut year with us! Come back tomorrow here at Oops! I Read A Book Again as Hilary T. Smith visits us! Now, go on to Michelle's blog for her feature on Cori McCarthy!
Are you a 2014 debut author? Are you interested in participating for Celebrating Debutantes 2014? Fill out this form!