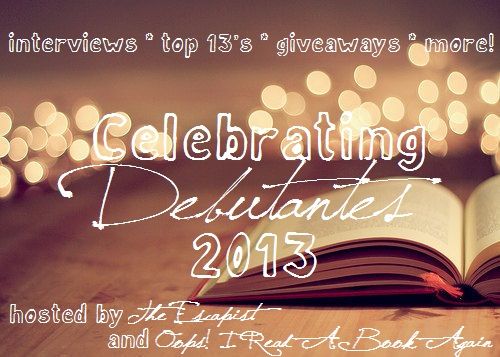 It's the last day of 2013 and we have an author releasing her debut novel today! Let's all welcome the author of the super-duper-cute The Promise of Amazing, ROBIN CONSTANTINE!
About Robin Constantine
Robin Constantine is a born and bred Jersey girl who moved down South so she could wear flip-flops year round. She spends her days dreaming up stories where love conquers all, well, eventually but not without a lot of peril, angst and the occasional kissing scene.
THIRTEEN THINGS YOU MIGHT NOT KNOW ABOUT ROBIN CONSTANTINE

1. I love roller coasters.

2. My seventeenth birthday was awful. I failed my road test, my friends went to Six Flags without me and my boyfriend showed up two hours late for dinner.

3. I'm from the same hometown as author George R.R. Martin.

4. If pressed, I can dance most of the Thriller dance. Do not press me. Please. EVER.

5. When I was twelve I was in an all girl production of ANNIE - I played Daddy Warbucks - bald cap and all.

6. When I go shopping with my family, I'm not allowed to wander into a bookstore on my own because they fear they will need to send a search party in after me. I can never go in "for just one thing".

7. I participated in and finished my first half-marathon in November 2012 but I still think "fun run" in an oxymoron.

8. I love the word oxymoron.

9. My favorite color is that shade of light purplish-blue the sky turns just before the first star comes out.

10. After waiting on line until midnight to get Harry Potter and The Deathly Hallows by JK Rowling, I went home and read it until the sun came up. Chapter thirty-three (in particular) broke my heart. Brilliant.

11. A perfect day begins with yoga, coffee and writing.

12. Cheesy as it may be, I still wish on stars.
13. My favorite way to play hooky is to see a movie in the middle of the day and have popcorn for lunch.
***
Title: The Promise of Amazing
Author: Robin Constantine
Date of Publication: December 31, 2013
Wren Caswell is average. Ranked in the middle of her class at Sacred Heart, she's not popular, but not a social misfit. Wren is the quiet, "good" girl who's always done what she's supposed to—only now in her junior year, this passive strategy is backfiring. She wants to change, but doesn't know how.




Grayson Barrett was the king of St. Gabe's. Star of the lacrosse team, top of his class, on a fast track to a brilliant future—until he was expelled for being a "term paper pimp." Now Gray is in a downward spiral and needs to change, but doesn't know how.




One fateful night their paths cross when Wren, working at her family's Arthurian-themed catering hall, performs the Heimlich on Gray as he chokes on a cocktail weenie, saving his life literally and figuratively. What follows is the complicated, awkward, hilarious, and tender tale of two teens shedding their pasts, figuring out who they are—and falling in love.
Giveaway
Robin is giving away a copy of THE PROMISE OF AMAZING! Open internationally. Good luck!
a Rafflecopter giveaway

Thank you Robin for celebrating your debut year with us! Come back tomorrow here at Oops! I Read A Book Again as Anne Plaza visits us! Now, go on to Michelle's blog for her feature on Jacqueline Green!
Are you a 2014 debut author? Are you interested in participating for Celebrating Debutantes 2014? Fill out this form!