Today, I am honored as part of #VMafia to share the an exclusive bonus scene of Fire & Flood, Victoria Scott's upcoming 2014 novel from Scholastic. If you're not familiar, Victoria Scott's the author of The Collector and the upcoming The Liberator, books in the Dante Walker series. So without further ado, here it is! With a giveaway on top!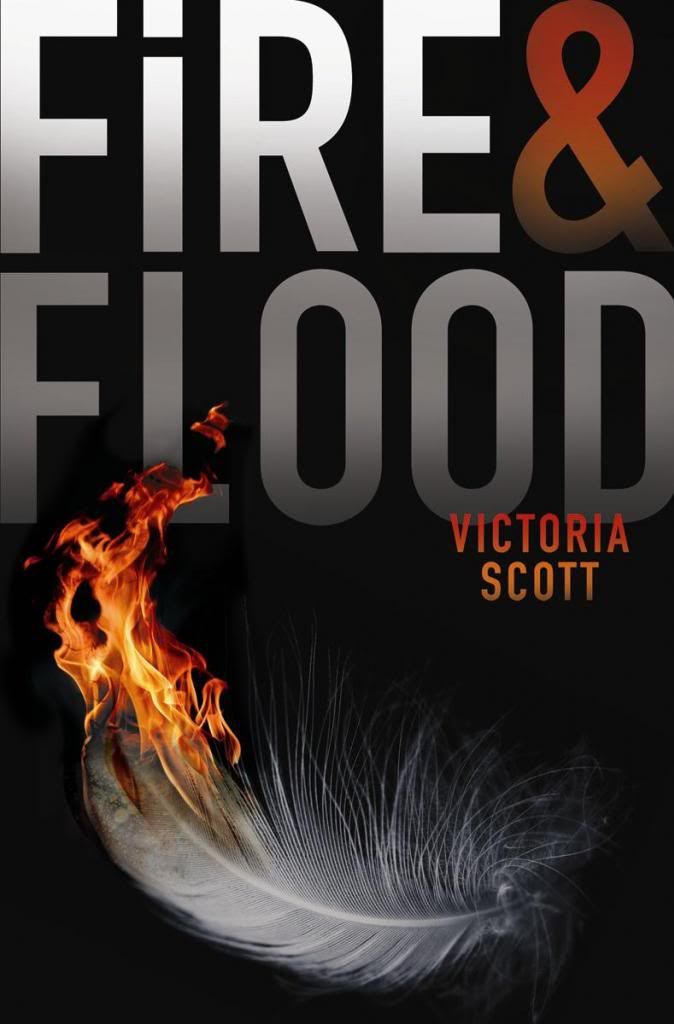 Date of Publication: March 2014
In a perilous race across the world, having the best Pandora can be the difference between life and death.




Sixteen-year-old Tella Holloway isn't happy. Her mother rushed them out of Boston and into a craptastic house nestled in Middle of Nowhere, Montana. To make matters worse, Tella's brother is sick, and though a dozen doctors can't determine the cause, her mother is sure Montana's "fresh air" will help. Now Tella spends her days being homeschooled, and uses her imagination as entertainment.




But when a small blue box appears on her bed, Tella's world is rocked. Inside the strange package she finds a white ear bud—and after she fits it into place and touches its blinking button—an unknown voice fills her head. Tella is invited to join the Brimstone Bleed, a race across four ecosystems: desert, sea, mountains, jungle. The voice in Tella's ear explains she has 48 hours to retrieve her Pandora, an animal genetically designed to help her win.




Tella has never been the sporty type; she's more a cheerleader than an athlete. But despite her mother's warnings, she's determined to compete in the race. And she'll do anything to win, because if Tella is the Brimstone Bleed victor, she'll be granted a specific gift—the cure to save her brother's life.




FIRE & FLOOD is a teen thriller set in modern day.
FIRE & FLOOD Bonus Scene
Harper Shaw, Minor Character

The Brimstone Bleed started four hours ago, give or take. I've traveled as far as necessary for now, put adequate distance between myself and the other Contenders. There will be plenty who travel without stopping, without making a plan.

Idiots.

Like the others, I don't know anything about this race, only that I need the prize—the Cure—more than I need my own beating heart. I can still remember my mother's words as I left our home.

"I don't know where you think you're going, Harper," she said. "But you can't just leave us like this. Not now."

But I did leave. It's not like I could tell her about the invitation. Or explain what would happen next. Because the truth was, I didn't know. Two days ago, I was lounging on my bed, listening to Linkin Park and watching MTV on mute. Today, I'm here, in a jungle, fighting to save the most important person in my life.

A caw rips through the late afternoon, and the dense canopy overhead rustles. I breathe in the smell of rich, damp soil that is almost invigorating. The air is thick and damp and clings to my skin, and everywhere I look is a plant I've never seen before. The world is a canvas of purple vines and orange flowers and greenery that swallows the ground beneath my feet. It's both horrific and captivating at once.

Every few seconds, I stop to swipe insects off my skin. It doesn't bother me. I'm not the squeamish type. The only thing I'm worried about is the egg in my Brimstone Bleed issued bag. A Pandora, the device said. An animal that will help me win this competition. My heart roars in my chest when the bag against my hip stirs once again.

Now that we're alone, I drop to my knees and remove the egg. When I see a prominent crack down the side, my entire body buzzes with anticipation. I've never had a pet before. Not a dog, not a cat…not even a goldfish. And now I'm supposed to travel with an animal that could potentially save my life and Lillian's? It's hard to absorb.

The egg cracks again, and I freeze. My hands hover over the iridescent shell, unsure of what to do. But this Pandora doesn't need my help. It's eager to escape its prison, eager to fulfill its destiny. I admire its tenacity already, but my stomach churns wondering what my Pandora will be like. Will it be ruthless? Endearing? Will it make it so that I don't feel utterly alone?

The egg burst open and I fall back, a gasp escaping my throat. I glance around to ensure we are alone. And when I look back, my hands shaking, my eyes widening, I see it—

A feather.
About Victoria Scott
Victoria Scott is a teen fiction writer represented by Sara Crowe. She's the author of THE COLLECTOR trilogy (Entangled Teen) and the FIRE & FLOOD series (Scholastic). Victoria lives in Dallas with her husband and hearts cotton candy something fierce.
Giveaway
a Rafflecopter giveaway