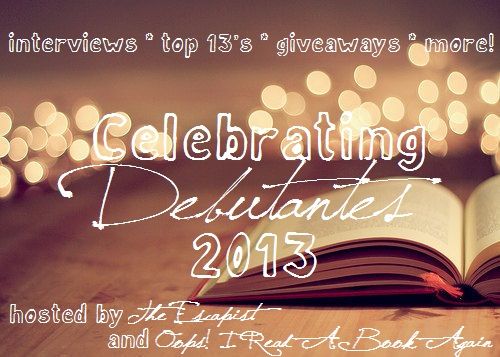 Let's all get to know the one who made hearts aflutter with the bad boy of 2013 Dante Walker, VICTORIA SCOTT!
About Victoria Scott
Victoria Scott is a teen fiction writer represented by Sara Crowe of the Harvey-Klinger Literary Agency. She's the author of the FIRE & FLOOD series published by Scholastic, and the DANTE WALKER trilogy published by Entangled Teen. Her books have been bought and translated in eight foreign markets including the UK, Turkey, China, Germany, Australia, Brazil, New Zealand, and the Netherlands.
Victoria lives in Dallas with her husband and hearts cotton candy something fierce.
Website | Twitter | Facebook | Youtube


THIRTEEN THINGS YOU MIGHT NOT KNOW ABOUT VICTORIA SCOTT
1. I have a fierce collection of heels that I rarely wear.

2. "Chenille blanket" is always on my Christmas list.

3. I'm deathly afraid of monkeys. No animal should look that much like a human.

4. My favorite vacation was spent in Santé Fe, New Mexico.

5. I adore lamps. There are at least three on in my home at any given moment.

6. Cotton candy is my jam.

7. Right now, more than anything, I want to buy a Louis Vuitton Keepall 60.

8. I have an iron rooster statue in my garden. I love him.

9. I take a glass of water with me everywhere I go. I also repeatedly dump it out and refill it for no reason.

10. I'm a cat person all day long. I'm also allergic to them.

11. The first concert I ever attended was a Tool concert. I lost sight of my friend within five minutes of the music starting, and spent the rest of the night crowd surfing. I was fifteen.

12. A shiny black Escalade is my favorite vehicle.

13. My favorite color is yellow. I don't feel like it gets near enough street-cred.
Title: The Collector (Dante Walker #1)
Author: Victoria Scott
Publisher: Entangled Teen
Date of Publication: April 2, 2013
He makes good girls...bad.

Dante Walker is flippin' awesome, and he knows it. His good looks, killer charm, and stellar confidence have made him one of hell's best—a soul collector. His job is simple: weed through humanity and label those round rears with a big red good or bad stamp. Old Saint Nick gets the good guys, and he gets the fun ones. Bag-and-tag.

Sealing souls is nothing personal. Dante's an equal-opportunity collector and doesn't want it any other way. But he'll have to adjust, because Boss Man has given him a new assignment:

Collect Charlie Cooper's soul within ten days.

Dante doesn't know why Boss Man wants Charlie, nor does he care. This assignment means only one thing to him, and that's a permanent ticket out of hell. But after Dante meets the quirky Nerd Alert chick he's come to collect, he realizes this assignment will test his abilities as a collector…and uncover emotions deeply buried.
Purchase from Amazon | B&N | The Book Depository
Title: The Liberator (Dante Walker #2)
Author: Victoria Scott
Publisher: Entangled Teen
Date of Publication: August 27, 2013
Bad boy, meet bad girl.

Dante has a shiny new cuff wrapped around his ankle, and he doesn't like that mess one bit. His new accessory comes straight from Big Guy himself and marks the former demon as a liberator. Despite his gritty past and bad boy ways, Dante Walker has been granted a second chance.

When Dante is given his first mission as a liberator to save the soul of seventeen-year-old Aspen, he knows he's got this. But Aspen reminds him of the rebellious life he used to live and is making it difficult to resist sinful temptations. Though Dante is committed to living clean for his girlfriend Charlie, this dude's been a playboy for far too long…and old demons die hard.

With Charlie becoming the girl she was never able to be pre-makeover and Aspen showing him how delicious it feels to embrace his inner beast, Dante will have to go somewhere he never thought he'd return to in order to accomplish the impossible: save the girl he's been assigned to, and keep the girl he loves.
Purchase from Amazon | B&N | The Book Depository
Thank you Victoria for celebrating your debut year with us! Come back tomorrow here at Oops! I Read A Book Again as Chelsea Pitcher visits us! Now, go on to Michelle's blog for her feature on Lauren Roedy Vaughn!
Are you a 2014 debut author? Are you interested in participating for Celebrating Debutantes 2014? Fill out this form!