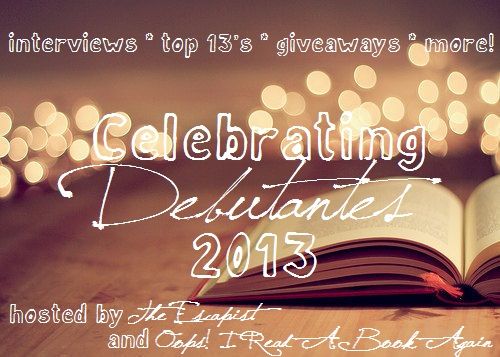 Celebrating Debutantes is celebrating the MG debut of TODD HASAK-LOWY today! Let's all give her a warm welcome!
About Todd Hasak-Lowy
My name is Todd, and I've been writing books for about fifteen years. I started writing books for adults, but now I write books for kids and teenagers, too. My most recent book is a middle-grade novel called 33 MINUTES. I've also published a short story collection THE TASK OF THIS TRANSLATOR and the novel CAPTIVES. In addition to writing fiction, I teach creative writing. I live in Evanston, Illinois (just outside Chicago), with my wife, two daughters, a dog, and two cats.

Website | Twitter
INTERVIEW WITH TODD HASAK-LOWY
What do you feel about the number '13'?

My main association with the number 13 is that it's the Bar or Bat Mitzvah year for Jews. This is probably because I myself am a Jew.
What's the best thing that happened after your book was published?

I would say going into schools and talking about the book. I was nervous about doing this. I didn't know if I'd be good at it or if I'd like it. But it turns out that I am pretty good (I think) at it, and I truly enjoy it. It feels good knowing there's actually something concrete one can do to promote one's work. It feels even better for this to involve interacting with one's readers.
How did you celebrate the publishing of your book?
I have no idea, I can't remember. I'm rather confident, however, that it involved eating. I respond to most events of consequence in my life, both good and bad, by going for a nice meal.
Do you read reviews of your book?

In this case, yes. Though with my books for older readers (i.e. adults) I try to avoid them. This might sound arrogant or something, but I had a feeling that people would like this book, and in general my sense is that people approach books for younger readers with a much more considerate sensibility. My books for older readers have been, I don't know, more biting, and some people don't respond to this well. Also, frankly, most of the "reviews" of 33 Minutes have been in blogs devoted to the promotion of children's literature. So these are technically reviews, but I think most of these blogs (thankfully!) are most interested in encouraging people to read. So the likelihood of a hatchet job is pretty small.
What is your best or most unforgettable moment with a fan?

After a presentation at a middle school, a 6th grade boy came up to me and started telling me that in class they did a writing exercise that revolved around expanding a single moment in time (my book does something similar, this is why he mentioned it). I was standing there talking to him, until suddenly I realized, Whoa, if we were the same age and went to the same school we'd totally be friends. Since that moment I've looked at my readers and the students I've visited with in a completely differently way. It's so easy to think of younger readers (and young people in general) as members of a different species. But that moment—which has really stuck with me—helped me appreciate that they're complete human beings. Somehow having two children of my own didn't quite ever give me the same realization, perhaps because a parent's relationship with his children has its own dynamic.
Was there any book/s from other debut author of 2013 that you loved?

One of my favorite books from 2013 (though it probably came out in 2012) was Ben Fountain's Billy Lynn's Long Halftime Walk. It wasn't his first book (he published a short story collection before), but it was his first novel. It's an amazing, amazing book.
Are you interested in writing in a different genre or for a different audience?

Well, I hope to write for adults again. And I also have a desire to write some sort of non-fiction. This was, sort of, what I used to do, in that I was trained as an academic (I studied Comparative Literature and was a professor of Modern Hebrew Literature for a number of years). But I'm not quite sure what topic I want to tackle. I mostly try to stay attuned to what feels urgent in a creative sense for me. This has lead to a somewhat chaotic, or at least unpredictable, writing career, but I've avoided (I like to think) publishing work that lacks vitality.
Share us one embarrassing moment you've had.

Just one? Actually, I think I repress all my embarrassing moments immediately after they've happened.

Favorite color? Green
Favorite movie? The original Willy Wonka and the Chocolate Factory
Favorite ice cream flavor? Chocolate peanut butter
Favorite song? Recently, hmm, George Harrison's "I Live For You"
Ultimate celebrity crush (dead or alive)? I'm not sure I have celebrity crushes. If I did, they'd be counter-intuitive. Like Virginia Woolf or someone like that. I'd like to have an awkward cup of tea with her.
What's next for you?

My first young adult novel will be published in January 2015. This novel (which is still searching for a title) is composed almost entirely of lists. And I'm in the middle of writing another young adult novel about first love and first break-ups. It's a mess right now, but, I like to think, a promising mess.
Title: 33 Minutes
Author: Todd Hasak-Lowy
Publisher: Aladdin
Date of Publication: January 1, 2013
Sam Lewis is going to get his butt kicked in exactly 33 minutes. He knows this because yesterday his former best friend Morgan Sturtz told him, to his face and with three witnesses nearby, "I am totally going to kick your butt tomorrow at recess."

All that's standing between Sam and this unfortunate butt-kicking is the last few minutes of social studies, and his lunch period. But how did Sam and Morgan end up here? How did this happen just a few months after TAMADE (The Absolutely Most Amazing Day Ever) when they became the greatest Alien Wars video game team in the history of great Alien Wars teams? Was it when new kid Chris showed up and suddenly Morgan kept having other plans on the weekend? Or when Morgan joined the football team while Sam became a star Mathlete?

And when it really comes down to it, will Morgan actually go through with it?

Told with equal parts laugh-out-loud humor and achingly real emotional truth, 33 minutes shows how the best of friendships can change forever.
Purchase from Amazon | B&N | The Book Depository
Thank you Todd for gracing Oops! I Read A Book Again with your presence! Come back tomorrow as Laurie Boyle Crompton, author of BLAZE, drops by!
Now, go on to Michelle's blog for her feature on Jennifer Anne Davis!
Are you a 2014 debut author? Are you interested in participating for Celebrating Debutantes 2014? Fill out this form!