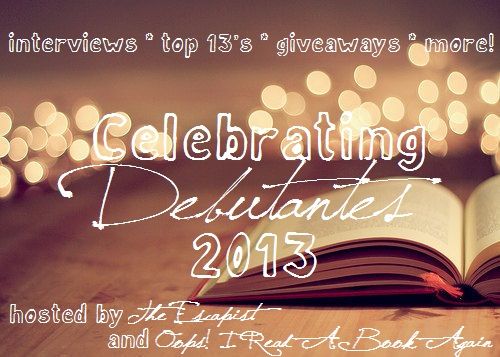 Celebrating Debutantes is celebrating the debut of STEPHANIE WARDROP today! Let's all give her a warm welcome!
About Stephanie Wardrop
My first YA series, Snark and Circumstance, is being released this year by Swoon Romance. I love books, travel, animals, and imagining other people's lives. You can chat with me any time by leaving a comment on my Facebook page, over at my Tumblr, or follow me on Twitter. I almost hope no one invents an even better social media site because I can barely keep up as it is!

Blog | Pinterest
THIRTEEN THINGS YOU MIGHT NOT KNOW ABOUT STEPHANIE WARDROP
1. I share a birthday with one of the founders of the Rolling Stones
(Brian Jones) and Lemony Snicket.

2. My first pet was a lizard named Loobie. I have no idea where I got that name. Now I love with another lizard, my son's crested gecko Sir Crestington.

3. As a kid in the Seventies, I loved the TV show _The Brady Bunch_, I really wanted to be Marsha, but even then, I knew I was really Jan.

4. I hate the taste of coffee but love the smell of it.

5. A shaman told me that my spirit animal is a fox and I believe him because I've always, for as long as I can remember, had very vivid, very "real" dreams about foxes and even had a few real life encounters with foxes that ran right up to me. I felt very honored by their interest

6. I lived in Las Vegas for nine months and I thought it was really boring after about two weeks. But if I concentrate just a little, I can still hear the ping!ping!ping! of the slot machines.

7. My first job was at a truck stop where I waited tables and scraped the grease and meat off of the grill. This could be why I'm a vegetarian (mostly vegan) now.

8. I also waited tables at a haunted restaurant and saw a ghost one night. It was not at all frightening, but electrifying, somehow.

9. As soon as I get close enough to the ocean to smell it, I instantly feel more alive. Someone should bottle beach smell. I would take little hits of it all day long.

10. I am terrified of komodo dragons (monitor lizards) even though the chance of my running into one on any given day is less than zero.

11. I vow to learn to play the guitar - even if it is just the riff on Iggy Pop's "The Passenger" - before I am 50.

12. I love my work writing and teaching (usually) but if I could do something else, I would be a documentary filmmaker.

13. I made my main character in Snark, Georgia, good at drawing because that is a talent I would love to possess.

Thanks for including me as a Debutante! It makes me want to put on a very fancy dress and high heels (which I would fall right off of).
Title: Snark and Circumstance (Snark and Circumstance #1)
Author: Stephanie Wardrop
Publisher: Swoon Romance
Date of Publication: February 5, 2013
One superior smirk from Michael Endicott convinces sixteen-year-old Georgia Barrett that the Devil wears Polo. His family may have founded the postcard-perfect New England town they live in, but Georgia's not impressed. Even if he is smart, good looking, and can return Georgia's barbs as deftly as he returns serves on his family's tennis courts. After all, if Michael actually thinks she refuses to participate in lab dissections just to mess with his grade, he's a little too sure that he's the center of the universe. Could there be more to Michael Endicott than smirks and sarcasm? If Georgia can cut the snark long enough, she just might find out.
Purchase from Amazon | B&N
Thank you Stephanie for gracing Oops! I Read A Book Again with your presence and sharing about you! Come back tomorrow as Lydia Kang, author of CONTROL, drops by!
Now, go on to Michelle's blog for her feature on Jadie Jones!
Are you a 2014 debut author? Are you interested in participating for Celebrating Debutantes 2014? Fill out this form!