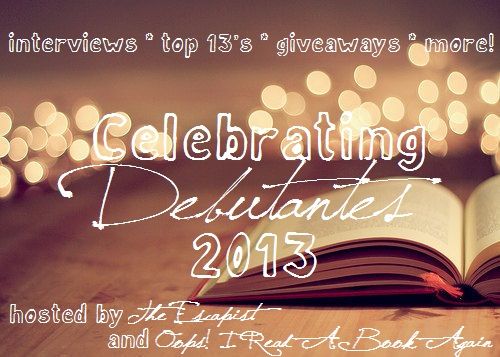 Tired of contemporary romances in new adult? How about a fantasy? You got it with Kinetic! Let's all welcome its author, S.K. ANTHONY!
About S.K. Anthony
S. K. Anthony is a writer, a reader and a make-stuff-up-er who lives in New York with her husband and toddler twins. She is a wine connoisseur, which just really means she knows she loves it, and a caffeine addict. When she isn't busy with her family she finds herself being transported into the world of imagination. Well, either that or running away from spiders…she is convinced they are out to get her!

Website | Twitter | Facebook | Pinterest


INTERVIEW WITH S.K. ANTHONY
What do you feel about the number '13'?

That it must be lucky. If so many people think their good luck is going somewhere, then
I'm more than happy to think positive and collect it for the day lol
What's the best thing that happened after your book was published?

I think connecting with readers and learning how they enjoyed the book has been by far the best feeling.
How did you celebrate the publishing of your book?

I celebrated by spending the day with my toddler twins, you know, playing with them
and basking in the awesomeness of their diapers lol. And later by having a quiet evening
at home with the hubby and a glass of wine.
Do you read reviews of your book?

Yes, I think reviews are important. They help me learn what my weaknesses and
strengths might be, and I get a chance to improve myself thanks to the opinion of readers.
What is your best or most unforgettable moment with a fan?

Well, my debut novel has been out less than a month so I don't think I have any "fans"
yet… I did meet some great readers who've emailed me to let me know they loved
Kinetic and each one of those were wonderful to read ;)
Was there any book/s from other debut author of 2013 that you loved?

Yes, I loved Elemental by Brandon Ax.
Are you interested in writing in a different genre or for a different audience?

I might work on an MG series in the future as well as one or two YA novels. For now,
I'm quite enjoying the NA genre.
Share us one embarrassing moment you've had.

A few years back, getting home from work and finding spinach stuck in my teeth…
after smiling and talking all day long with clients. Awesome.
Favorite color?
Blue
Favorite movie?
Just one? This is tough, okay… The Notebook.
Favorite ice cream flavor?
I don't discriminate against ice cream. I'll have you know I love them all! If I * must *
choose one though, then Vanilla Swiss Almond it is.
Favorite song?
Eeek, too many! I'll go with Endless Love for now.
Ultimate celebrity crush (dead or alive)?
At the moment I have to say Henry Cavill :D
What's next for you?

Just to keep on writing. I'm currently working on the second book in The Luminaries
series and another contemporary NA spy novel.
***
Thank you so much for sharing us your debut experience, Katherine! And yes to all ice creams! Except strawberry. Ick. Now, let's get to know more her debut novel, KINETIC!
Title: Kinetic (The Luminaries #1)
Author: S.K. Anthony
Date of Publication: September 20, 2013
Being strong is one thing. Being an unlimited source of power is quite another.

Genetically altered by the Organization, Annie Fox takes down criminals CIA-style with her luminary strength. With nothing to mend but her broken heart, she is relentlessly pursued by her boss Derek Lake. Just when Annie is about to give him a chance, her ex-husband unexpectedly comes out of hiding.

A wanted man, Nick Logan is a cold-hearted murderer who is considered enemy number one, and orders are clear: kill on contact. He is more powerful than ever and threatens the lives of those she holds most dear. His plan? Get his hands on Annie and use her Kinetic energy to destroy them all. When Annie finds herself with an opportunity to end him, she pauses, horrified by the scars covering the face she once loved. A split second that will cost her everything…
Purchase from Amazon | B&N | The Book Depository
Katherine is giving away an ecopy of KINETIC and a $10 Amazon GC! Huzzah! Good luck!
a Rafflecopter giveaway

Thank you Katherine for celebrating your debut year with us! Come back tomorrow here at Oops! I Read A Book Again as Mary Gray visits us! Now, go on to Michelle's blog for her feature on Annika James!
Are you a 2014 debut author? Are you interested in participating for Celebrating Debutantes 2014? Fill out this form!