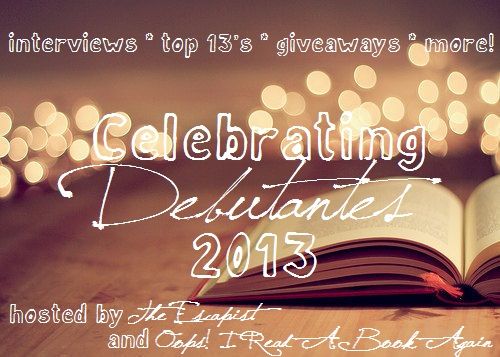 I won't make you wait anymore but I have today in my blog the author of the hacker-ly awesome Find Me, ROMILY BERNARD!
About Romily Bernard
I graduated from Georgia State University with a Literature degree. Since then, I've worked as a riding instructor, cell phone salesgirl, personal assistant, groom, exercise rider, accounting assistant, and, during a very dark time, customer service rep.
So don't let anyone tell you a BA degree will keep you unemployed.
Website | Twitter | Pinterest | Youtube

THIRTEEN THINGS YOU MIGHT NOT KNOW ABOUT ROMILY BERNARD
1. I wrote my first book in second grade. It was about a witch. For those of you who
know me, this is extremely unsurprising.

2. Not including the witch book, I wrote four novels before FIND ME.

3. Over the course of four novels, I scored 246 rejection letters from agents and editors.

4. I once thought about wallpapering my closet with all those rejection letters. Actually, I'm lying I still think about it.

5. Whenever I get writers' block, I self-medicate with food and tell people I'm "carb-loading" because then it sounds like I'm preparing for a marathon.

6. I would never run a marathon. I make it a practice to run only if I'm chasing an ice cream truck…or if someone with an axe is chasing me.

7. I have OCD—not the kind that's compelled to organize your spice rack or sees germs running up and down people Matrix-style. I check locks, scrub baseboards, and pace circles. There are a few benefits—like I get plenty of steps in when I hike across the house to touch the side door locks for the fifth time. In that way, it's great exercise and prevents me from cheating with my pedometer by beating it against the tabletop until I get my 7000 steps for the day. Yes, you read that right. Apparently, the only thing I hate more than Here Comes Honey Boo Boo is not hitting my pedometer goal for the day. You would think, being OCD, cheating would bother me. You would think wrong.

8. Romily Bernard is my real name. In fact, I didn't consider the option of using a pen name until recently. And by recently I mean when someone sent me a naked picture of his junk. I wanted to bleach my eyeballs.

9. It is now a rule that if anyone sends me nekkid body parts, I will post them on my site and encourage my readers to ridicule them.

10. BG says we're not posting any nekkid pictures. Apparently, he doesn't care about what might make my readers laugh.

11. While writing, REMEMBER ME the sequel to FIND ME, chunks of my hair fell out from stress. For a while, I called my bald spot Wick because that's my heroine's name.

12. I have two rescued dogs and a rescued horse. All of them have better hair than I do. I suspect it's because they don't write.

13. I think of myself as a reader first and a writer second. Do not ask me about Rainbow Rowell, Maggie Stiefvater, Jay Asher, John Green, Markus Zusak, or Courtney Summers because I cannot shut up about them. This rule also applies to Matthew Quick, Cecily White, Natalie Richards, Ilsa Bick, and—well, you get the point.

Crazy grateful to Dianne for having me today on Celebrating Debutantes! Thanks a million! I hope you enjoyed the post and I hope you enjoy FIND ME!!
***
Romily Bernard is in my blog. Romily Bernard is in my blog!!! She loves the authors I also love. I also have a bald spot or I think I have. Now, I won't bore you with my spazzing but I'll just introduce you to her debut novel, FIND ME!
Title: Find Me
Author: Romily Bernard
Date of Publication: September 24, 2013
Genre: mystery YA thriller romance
"Find Me."




These are the words written on Tessa Waye's diary. The diary that ends up with Wick Tate. But Tessa's just been found . . . dead.




Wick has the right computer-hacking skills for the job, but little interest in this perverse game of hide-and-seek. Until her sister Lily is the next target.




Then Griff, trailer-park boy next door and fellow hacker, shows up, intent on helping Wick. Is a happy ending possible with the threat of Wick's deadbeat dad returning, the detective hunting him sniffing around Wick instead, and a killer taunting her at every step?




Foster child. Daughter of a felon. Loner hacker girl. Wick has a bad attitude and sarcasm to spare.




But she's going to find this killer no matter what.




Because it just got personal.
Romily is giving away a copy of FIND ME to one lucky US resident! Good luck!
a Rafflecopter giveaway

Thank you Romily for celebrating your debut year with us! Come back tomorrow here at Oops! I Read A Book Again as Christina Mercer visits us! Now, go on to Michelle's blog for her feature on Nichole Giles!
Are you a 2014 debut author? Are you interested in participating for Celebrating Debutantes 2014? Fill out this form!