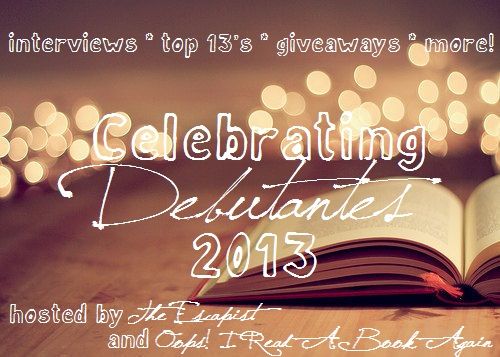 Today, we have the author of Six Months Later from Sourcebooks Fire, NATALIE D. RICHARDS! Let's all welcome her!
About Natalie D. Richards
Natalie D. Richards won her first writing competition in the second grade with her short story about Barbara Frances Bizzlefishes (who wouldn't dare do the dishes.) Now she writes about awesome girls, broody boys, and all things dark and creepy. When she's not writing or shopping her manuscripts, you can probably find her wading through the towers of dog-eared paperbacks that have taken over her bedroom. Natalie lives in Ohio (Go Bucks!) with her techno-wiz husband, three amazing kids, and a seventy pound dust-mop who swears he's the family dog.

Website | Twitter | Facebook

THIRTEEN THINGS YOU MIGHT NOT KNOW ABOUT NATALIE D. RICHARDS
1. I'm known for my homemade caramel corn. Seriously. People have suggested I open a business. It's crazy.

2. I'm a chapstick purist. The original Burt's Bees in the yellow tube is all I use. Sadly, I lose about fifteen tubes of it a year. I should buy stock in the company.

3. I generally dislike things that are sappy or sentimental. I never watch Hallmark or Lifetime movies, and don't like poetry in greeting cards. Until December 1st. It's like someone tacks up a few strands of Christmas lights and I'm immediately singing "O' Holy Night" and watching some movie about true love triumphing in the face of impossible odds and (in most cases) a snowstorm.

4. The word 'bulbous' bothers me. I mean, really. Bulbous. Horrible!

5. I'm a Star Wars fanatic. Favorite movie? Empire Strikes Back. Favorite characters? Boba Fett, Han Solo, and Vader. Favorite Quote? "I Find Your Lack of Faith Disturbing"

6. I've been to Hawaii twice. It's like winning the lottery. Twice. How did I get this lucky?

7. I once performed in a play on the radio. Kind of cool experience.

8. Speaking of radio, I have one of those totally weird "radio voices" and frequently get requests to record voicemail systems or perform public reading/moderating.

9. I'm nerved out about food germs. It's so dumb. I'm always wondering how long pasta salad has been sitting out or whether or not a fly has landed on my hot dog. Potlucks are hopeless for me.

10. I worked as a third shift waitress in a pancake house. Think about that for a minute. Consider the clientele one might encounter at a restaurant at four o'clock in the morning. Yes, it was exactly like you're imagining.

11. I actually wrote a story that started with the sentence "It was a dark and stormy night." Now, l should mention that I was in the third grade, but still.

12. I know the lyrics to every single song on the Nine Inch Nails Pretty Hate Machine album.

13. Since we're on number 13, I'll finish with the fact that my birthday is a 13th and, apparently (if rumors are correct) I share it with Bella from the Twilight saga.
***
Okay, yes, I really have to agree on the word 'bulbous'. Hahaha! Long live moist! Die bulbous, die! Now, let's get to know Natalie's debut novel, SIX MONTHS LATER!
Title: Six Months Later
Author: Natalie D. Richards
Publisher: Sourcebooks Fire
Date of Publication: October 1, 2013
Chloe didn't think about it much when she nodded off in study hall on that sleepy summer day. But when she wakes up, snow is on the ground and she can't remember the last six months of her life. Before, she'd been a mediocre student. Now, she's on track for valedictorian and being recruited by Ivy League schools. Before, she never had a chance with super jock Blake. Now he's her boyfriend. Before, she and Maggie were inseparable. Now her best friend won't speak to her.

What happened to her?
And why can't she remember?
Purchase from Amazon | B&N | The Book Depository
Natalie (heart her!) is giving away a signed copy of SIX MONTHS LATER to a lucky US/Can resident! Good luck!
a Rafflecopter giveaway

Thank you Natalie for celebrating your debut year with us! Come back tomorrow here at Oops! I Read A Book Again as Alison Cherry visits us! Now, go on to Michelle's blog for her feature on Mindy McGinnis!
Are you a 2014 debut author? Are you interested in participating for Celebrating Debutantes 2014? Fill out this form!