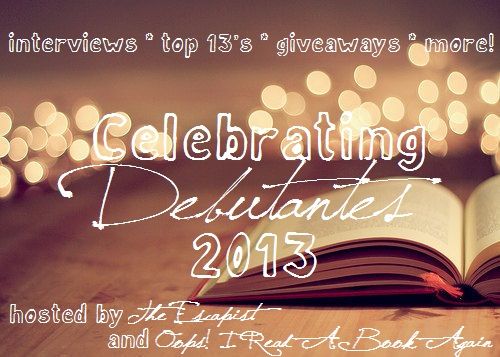 An author and also an intern at Swoon Romance, let's all welcome the author of In Stone, LOUISE D. GORNALL!
About Louise D. Gornall
I'm a graduate of Garstang Community Academy, currently studying for a BA (Hons) in English language and literature with special emphasis on creative writing. YA aficionado. Brit bird. Film nerd. Identical twin. Junk food enthusiast. Rumoured pink Power Ranger. Zombie apocalypse 2012 survivor. Avid collector of book boyfriends.
Website | Twitter | Facebook


INTERVIEW WITH LOUISE D. GORNALL
What do you feel about the number '13'?
I don't really have any feels about the number 13, but my Grandma was born on the 13th and she won't hear a bad word said about it. I'm more nervous of the number 7... you know, because 7 8(ate) 9. Appalling joke, but I couldn't resist.
What's the best thing that happened after your book was published?
There were a couple of things. Seeing In Stone on the USA Today blog was very cool. Also, pre release, my publicist emailed me to tell me that In Stone had received 'top read of 2013' status from not one, but two blogs. I was absolutely stoked about that. Hearing people enjoyed my book is this best thing ever. I'll never get tired of it.
How did you celebrate the publishing of your book?
I went out and had steak with my family. Ooh, and my sister bought me a massive book-shaped cake which was consumed at record-breaking speeds.
Do you read reviews of your book?
I do. I love seeing what people think, good or bad.
What is your best or most unforgettable moment with a fan?
I don't even know if I have any fans. Is that weird? I guess I've made a lot of new friends since the book came out. I have a blogger friend who refers to my MC as her gargoyle boyfriend, which gives me all kinds of feels.
Was there any book/s from other debut author of 2013 that you loved?
This year I discovered novellas. I was looking for a quick read and a friend suggested I give Stephanie Wardrop's Snark and Circumstance series a try. I did, and absolutely loved them.
Are you interested in writing in a different genre or for a different audience?
My adult voice sucks. It's really bad. I don't think I'll ever be able to successfully switch my target audience, but I've started dabbling with horror. I have this whole Means Girls meets The Exorcist story in the works.
Share us one embarrassing moment you've had.
There are none. Nope. None whatsoever... BUT if there were... they would probably involve food spillages, hugging strangers because I thought they were someone else, animals, public places, fire and accidental nudity.
Favorite color?
Green.
Favorite movie?
LOTR.
Favorite ice cream flavor?
Strawberry.
Favorite song?
Everything by Alanis Morissette.
Ultimate celebrity crush (dead or alive)?
Ben Barnes.
What's next for you?
Right now I'm writing the sequel to In Stone which is a lot of fun. After Christmas I'm hoping to finish my horror and see if I can shop it to some poor, unsuspecting publisher.
***
GARGOYLES!!!! Now, check out Louise's debut novel, IN STONE!
***
Title: In Stone
Author: Louise D. Gornall
Publisher: Entranced Publishing
Date of Publication: July 1, 2013
Beau Bailey is suffering from a post-break-up meltdown when she

happens across a knife in her local park and takes it home. Less than a week later, the new boy in school has her trapped in an alley; he's sprouted horns and is going to kill Beau unless she hands over the knife.




Until Eighteenth-century gargoyle, Jack, shows up to save her.




Jack has woken from a century-long slumber to tell Beau that she's unwittingly been drafted into a power struggle between two

immortal races: Demons and Gargoyles. The knife is the only one in existence capable of killing immortals and they'll tear the world apart to get it back. To draw the warring immortals away from her home, Beau goes with Jack in search of the mind-bending realm known as the Underworld, a place where they'll hopefully be able to destroy the knife and prevent all hell from breaking loose. That is, provided they can outrun the demons chasing them.
Thank you Louise for celebrating your debut year with us! Come back tomorrow here at Oops! I Read A Book Again as J.J Howard visits us! Now, go on to Michelle's blog for her feature on Claire M. Caterer!
Are you a 2014 debut author? Are you interested in participating for Celebrating Debutantes 2014? Fill out this form!