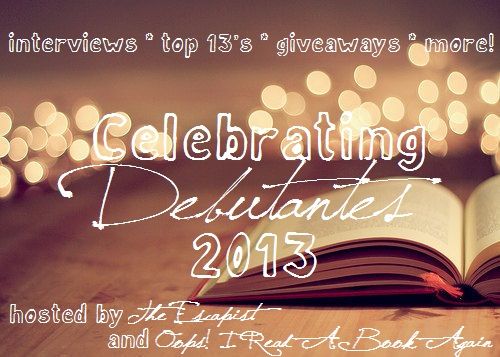 Eeeekkk, I love this author's debut novel entitled Blaze (or Love in the Time of Supervillains). Let's all welcome LAURIE BOYLE CROMPTON!
About Laurie Boyle Crompton
Laurie Boyle Crompton is the YA author of BLAZE (or Love in the Time of Supervillains) and THE REAL PROM QUEENS OF WESTFIELD HIGH (Sourcebooks, 2013 & 2014) as well as the upcoming ADRENALINE CRUSH from Farrar Straus Giroux. Laurie graduated first in her class from St. John's University with a major in English and minor in Journalism. She's written for national magazines like ALLURE as well as numerous trade publications and has appeared on Good Day New York several times as a Toy Expert. Yes, that is an actual thing that people sometimes get to be.
When she's not writing Laurie enjoys hiking, cycling, reading, cross-country skiing, running, going to the movies and drinking tea by the gallon. She lives near NYC, but loves to escape to the mountains in New Paltz, NY where she and her family can often be found climbing over rocks or tromping through the forest. She is represented by Ammi-Joan Paquette of the Erin Murphy Agency.
Website | Blog | Twitter | Tumblr

THIRTEEN THINGS YOU MIGHT NOT KNOW ABOUT LAURIE BOYLE CROMPTON
1. She's deliriously happy to be a YA author and thinks it is the absolute best job anyone could imagine. Because it is.

2. She grew up in Butler, Pennsylvania the small rural town where Blaze also happens to live. This is not because she is too lazy to research new settings. Okay, that may be part of the reason.

3. She got the heck out of Butler as soon as humanly possible and now resides on Long Island close to NYC. But she loves to steal away upstate to New Paltz which is a town quite similar to Butler in many ways. The irony of this is not lost on her.

4. She graduated first in her class from St. John's University. This is because she loves to read and was an English major and not because she is actually all that smart.

5. Among her numerous jobs she once wrote for a toy magazine and appeared on television as a 'toy expert.' Yes, it was every bit as cool as that sounds.

6. She and her husband lived in England for six months before having children and that was also every bit as cool as it sounds.

7. She likes feeling jet-lagged and wishes she could travel overseas more often. Just for the jet-lag. And maybe for the travel, too.

8. Her absolute favorite author in high school was Stephen King. One of the minor characters in Blaze has a seriously twisted backstory as a result of this. Laurie will never tell anyone what that backstory is unless she maybe meets Stephen King one day and he happens to ask her about it.

9. She painted her first car hot pink when she was seventeen years old. Blaze gives her minivan a similar makeover in the book. This was in order to pay homage to that legendary car and not because Laurie is too lazy to make new stuff up. She genuinely loves making new stuff up.

10. If she was a superhero her name would probably be Black Yoga Pants Lady since that's pretty much all she wears while writing everyday.

11. She is an extreme introvert but manages to seem completely normal at social gatherings. Mostly.

12. Laurie has two new books coming out in 2014: THE REAL PROM QUEENS OF WESTFIELD HIGH (Sourcebooks) and ADRENALINE CRUSH (FSG/Macmillan). She is very excited for 2014 to hurry up and get here.

13. If she could choose one superpower it would absolutely be the power to fly. Like, honestly more than a grown woman should wish she could fly.
***
Laurie is here in my blog! I'm featuring Blaze! Eeeeppp! Go check out BLAZE now!
Title: Blaze (or Love in the Time of Supervillains)
Author: Laurie Boyle Crompton
Publisher: Sourcebooks Fire
Date of Publication: February 1, 2013
Blaze is tired of spending her life on the sidelines, drawing comics and feeling invisible. She's desperate for soccer star Mark to notice her. And when her BFF texts Mark a photo of Blaze in sexy lingerie, it definitely gets his attention. After a hot date in the back of her minivan, Blaze is flying high, but suddenly Mark's feelings seem to have been blasted by a freeze-ray gun, and he dumps her. Blaze gets her revenge by posting a comic strip featuring uber-villain Mark the Shark. Mark then retaliates by posting her "sext" photo, and, overnight, Blaze goes from Super Virgin Girl to Super Slut. That life on the sidelines is looking pretty good right about now...
Laurie is giving away a copy of BLAZE plus bookmarks and this giveaway is open to the US, Canada, UK and Australia. Good luck!
a Rafflecopter giveaway

Thank you Laurie for celebrating your debut year with us! Come back tomorrow here at Oops! I Read A Book Again as Amy Rose Capetta visits us! Now, go on to Michelle's blog for her feature on Elsie Chapman!
Are you a 2014 debut author? Are you interested in participating for Celebrating Debutantes 2014? Fill out this form!