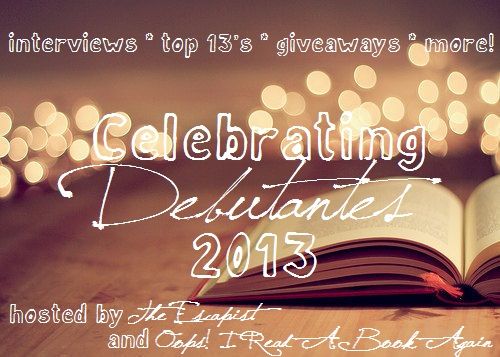 Happy Sunday, everyone! Today, KRYSTALYN DROWN, author Legasea and Spirit World, takes the stage here at Oops! I Read A Book Again. Let's all welcome her here!
About Krystalyn Drown
Krystalyn spent thirteen years working at Walt Disney World in a variety of roles: entertainer, talent coordinator, and character captain. Her degree in theatre as well as many, many hours spent in a dance studio, helped with her job there.

Her various other day jobs have included working in zoology at Sea World, as an elementary teacher, and currently as a support technician for a website. In the evenings, she does mad writing challenges with her sister, who is also an author.

Krystalyn lives near Orlando, Florida with her husband, son, a were cat, and a Yorkie with a Napoleon complex.

Blog | Twitter | Facebook | Pinterest
THIRTEEN THINGS YOU MIGHT NOT KNOW ABOUT KRYSTALYN DROWN
1. I was named after Kris Kristofferson.

2. I used to belly dance and was one of Aladdin's harem dancers at Disney World.

3. In the thirteen years I worked at Disney, I also served as a talent coordinator and a spider expert.

4. I'm terrified of spiders.

5. I also worked at Sea World in the zoology department. I spent my days playing with the dolphins, seals, and sting rays. Best job ever.

6. I'm a certified elementary school teacher.

7. Growing up, my favorite TV show was Kids Incorporated.

8. I once had eight guinea pigs.

9. I now have a deaf cat named Zoe and a Yorkie named Sophie.

10. I grew up near Williamsburg, VA. We always had the best field trips.

11. I've visited 24 states and 11 countries.

12. I still have my Atari 800 computer from 1982.

13. I love all things science fiction.
Title: Legasea
Author: Krystalyn Drown
Publisher: Curiosity Quills Press
Date of Publication: January 28, 2013
When sixteen-year-old Aileen Shay sees a dead girl floating in the bay during a midnight yacht party, she never imagines Jamie Flannigan, her new boyfriend, may be involved. The only thing she knows about Jamie is that he personifies the one thing she has been drawn to her entire life – the ocean. But as she grows closer to him, she realizes he knows more about the murder than he's telling. When another girl is attacked, and Jamie refuses to answer her questions, Aileen searches for answers on her own.

Aileen learns that Jamie's family belongs more to myths and legends than they do in the real world. They are selkies, and after the Flannigans threaten her family, Aileen suspects they are responsible for both attacks.

But they aren't the only ones in her small fishing town who can keep a secret. As Aileen uncovers the truth about the murder, the selkies, and her own family, she learns why her soul is bonded to the sea. But with that revelation comes a choice – to permanently sever her connection with the water, which comes at a painful cost, or embrace a legacy that just might get her killed.
Purchase from
Amazon
|
B&N
|
The Book Depository

Krystalyn is giving away an ecopy of her debut novel, LEGASEA! Good luck!

Thank you Krystalyn for celebrating your debut year with us! Come back tomorrow here at Oops! I Read A Book Again as Stephanie Wardrop visits us! Now, go on to Michelle's blog for her feature on Elisabeth Dahl!
Are you a 2014 debut author? Are you interested in participating for Celebrating Debutantes 2014? Fill out this form!