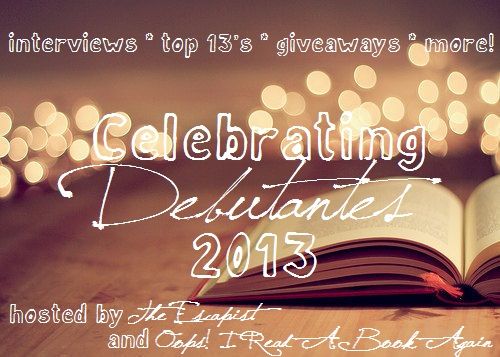 I am here today to spotlight JODY CASELLA, author of THIN SPACE. Let's all welcome her!
About Jody Casella
Ohio-based Jody Casella has been writing stories since the age of seven. She majored in creative writing at Rhodes College and has an MA in English from the University of Memphis. After many years teaching and raising children, she's thrilled to be making her debut with THIN SPACE (Beyond Words; Simon & Schuster), a paranormal YA mystery about a boy coming to terms with his twin brother's death.

Website | Twitter | Facebook
THIRTEEN THINGS YOU MIGHT NOT KNOW ABOUT JODY CASELLA
1. Thin Space is the 6th book I've written and the first to be published. (This is either depressing or inspiring, depending on how you want to look at it.)

2. I walk my dog--a hyper, brilliant, possibly crazy mutt named Zooey--three times a day.

3. Procrastination is my middle name. Every day it is a struggle for me to put my butt in a chair and do my writing work. My solution: I flip an hour glass. Once the sand starts falling, I fall too, into my latest project.

4. My favorite guilty TV pleasure lately is Teen Wolf. (I tell people it is research for YA novels.) (I am lying.)

5. The main character in Thin Space, Marsh Windsor, is based on a real guy. One day I noticed a kid stepping off my son's school bus, barefoot. I never knew why the guy walked around without shoes (even in winter!) and the idea tormented me. So I wrote a book and came up with my own answer.

6. Before I started writing full-time, I had multiple jobs. The best: a tie between high school English teacher and bookstore clerk. The worst: fry cook at a Ponderosa Steakhouse. I was always burning myself on the fry-o-lator.

7. Junk food I refuse to buy: Doritos.

8. Junk food I literally cannot stop eating if I know it exists in my home: Doritos

9. When I am not writing (or walking my dog) (or eating Doritos), I am reading. My favorite authors are John Green, Laurie Halse Anderson, Sara Zarr, Meg Rosoff, Richard Russo, Anne Tyler, Ann Patchett, Barbara Kingsolver, and Anne Lamott.

10. I am a total fan girl when it comes to meeting authors and I try to hit every book signing I can. A few of the authors I've met and swooned over: Madeleine L'Engle, John Updike, Veronica Rossi, Lauren Myracle, Meg Rosoff, and M.T. Anderson.

11. To get into the head (and feet) of my Thin Space main character, I attempted to walk around my block barefoot in the snow. I only made it three houses down the street before quitting. Yikes. It was cold.

12. I met my husband at a fraternity party that had a Wrestlemania theme. There is such a weird story behind our meeting that I know one day I must use it in a novel...

13. When I finished writing Thin Space, I had not intention of making a sequel, but one morning I woke up with a crazy vision of part two in the saga of my poor barefooted guy Marsh Windsor. I wrote the entire horrifying story down, and if Thin Space does well, readers may get a chance to find out what happens next.
*high five* Procrastination is my middle name too. Hi, sister! Master crammer in here! And Teen Wolf! Dylan O'Brien <3 Stiles <3 I hope we can hear how Jody met her husband! I'm sure it's an awesome story. Now,
let's check out her book!
Title: Thin Space
Author: Jody Casella
Publisher: Beyond Words/Simon Pulse
Date of Publication: September 10, 2013
Ever since the car accident that killed his twin brother, Marshall Windsor has been consumed with guilt and crippled by secrets of that fateful night. He has only one chance to make amends, to right his wrongs and set things right. He must find a Thin Space—a mythical point where the barrier between this world and the next is thin enough for a person to step through to the other side.

But, when a new girl moves into the house next door, the same house Marsh is sure holds a thin space, she may be the key—or the unraveling of all his secrets.

As they get closer to finding a thin space—and closer to each other—Marsh must decide once and for all how far he's willing to go to right the wrongs of the living…and the dead.
Purchase from Amazon | B&N | The Book Depository
Jody is giving away a copy of THIN SPACE to a lucky US resident! But if you live outside of the US and you desperately want it, you can win THIN SPACE in my #DianneTurns20 giveaway!
a Rafflecopter giveaway
Thank you Jody for celebrating your debut year with us!
Come back tomorrow here at Oops! I Read A Book Again as Krystalyn Drown, author of Legasea, drops by! Now, go on to Michelle's blog for her feature on Kelley Lynn!
Are you a 2014 debut author? Are you interested in participating for Celebrating Debutantes 2014? Fill out this form!