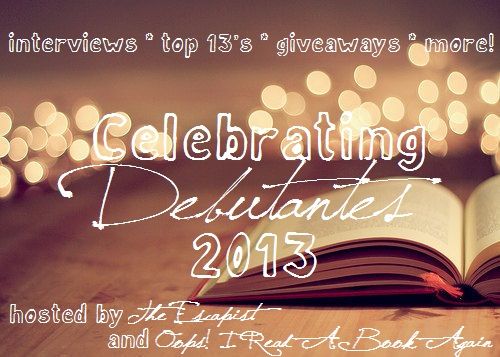 Here at Oops! I Read A Book Again today is the author of That Time I Joined The Circus, J.J. HOWARD!
About J.J. Howard
J.J. Howard is wearing headphones right now, most likely. She grew up in York, Pennsylvania, obsessed with music, movies, television, and pop culture. You can call her if you ever need to phone a friend for trivia on any of the above topics, but don't ask about sports, because she is hopeless at those (along with math).

J.J. graduated from Dickinson College with a BA in English and Tiffin University with an MH in Humanities. She has been some of her students' favorite English teacher for a quite a few years (she even has a mug somewhere to prove it). THAT TIME I JOINED THE CIRCUS is her first young adult novel.

Website | Blog | Twitter | Facebook | Pinterest | Tumblr


THIRTEEN THINGS YOU MIGHT NOT KNOW ABOUT J.J. HOWARD
1. I'm named after a weird TV show. I have the most popular girl's name of the seventies, of course. I was once in an eight-person expository writing class in college, and three of the eight students were named Jennifer. The professor gave us numbers instead. I was number two, of course. It is quite possible, however, that I am the only Jennifer to ever be named after a TV show that no one except my parents ever heard of. Until the age of Google I thought my mom and dad had invented The Governor and J.J.—but now I know that it did in fact run from 1969-1971.
2. I like salt better than sugar. I mean I will eat candy, but I would rather have French fries or popcorn or onion rings. Great, now I'm hungry.

3. My favorite writer is Joss Whedon. My dog is even named Willow after Buffy the Vampire Slayer. If I had a time machine (and magic powers) I'd un-cancel Firefly first. Willow!
4. I love vintage and antique jewelry, especially watch chains and watch fobs. For this reason, e-bay was one of the best (and most dangerous) inventions of my life!

5. When I was in sixth grade I decided that I wanted to be a lawyer because I liked to argue. Then in middle school and early high school I wanted to have my own jewelry shop at the beach. In high school I decided to be an art history professor. Then for some reason I became an English teacher. I actually tried the student teaching in college because my parents pestered me and then I accidentally liked it.

6. My editor for That Time I Joined the Circus is an NYC native, and I managed to fool her that I'd lived in New York at some point in my life—but actually, it's just my favorite city and I visit every chance I can.

7. I hate snow. I used to ski when I lived up north, but it was just making the best of a bad situation.

8. Speaking of sports, the only one I really like is roller skating. (Is roller skating a sport?)

9. Three out of four of my great-grandparents on my father's side of the family were Cherokee.

10. Halloween= the best holiday, in my humble opinion. This year I'm being the Mad Hatter from Alice in Wonderland.

11. Under no circumstances, no matter how fancy the occasion, can I wear high heels. I had back surgery a few years ago, and since then it hurts way too much to wear them. I may actually look cooler without them, though, because I never actually learned to walk properly in them to begin with!

12. My favorite classic book is Wuthering Heights.

13. My favorite modern book is Outlander by Diana Gabaldon.
***
Willow is so cute! Now, I won't bore you with my comments so let's just get to knowing Jen's debut novel, THAT TIME I JOINED THE CIRCUS!
Title: That Time I Joined The Circus
Author: J.J. Howard
Publisher: Point
Date of Publication: April 1, 2013
Lexi Ryan just ran away to join the circus, but not on purpose.

A music-obsessed, slightly snarky New York City girl, Lexi is on her own. After making a huge mistake--and facing a terrible tragedy--Lexi has no choice but to track down her long-absent mother. Rumor has it that Lexi's mom is somewhere in Florida with a traveling circus.

When Lexi arrives at her new, three-ring reality, her mom isn't there . . . but her destiny might be. Surrounded by tigers, elephants, and trapeze artists, Lexi finds some surprising friends and an even more surprising chance at true love. She even lucks into a spot as the circus's fortune teller, reading tarot cards and making predictions.

But then Lexi's ex-best friend from home shows up, and suddenly it's Lexi's own future that's thrown into question.

With humor, wisdom, and a dazzlingly fresh voice, this debut reminds us of the magic of circus tents, city lights, first kisses, and the importance of an excellent playlist.
Purchase from Amazon | B&N | The Book Depository
Giveaway
Jen is giving away a THAT TIME I JOINED THE CIRCUS! Open internationally. Good luck!
a Rafflecopter giveaway

Thank you Jen for celebrating your debut year with us! Come back tomorrow here at Oops! I Read A Book Again as Victoria Scott visits us! Now, go on to Michelle's blog for her feature on Shana Mlawski!
Are you a 2014 debut author? Are you interested in participating for Celebrating Debutantes 2014? Fill out this form!