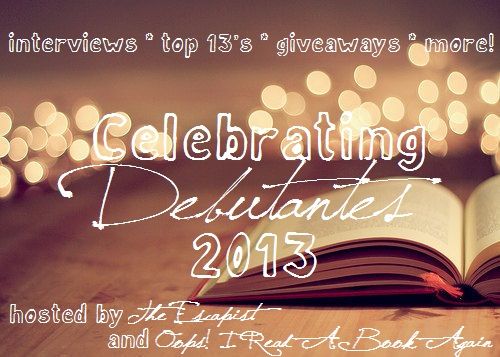 Today, we have the author of THE S-WORD from Simon and Schuster's Gallery imprint, CHELSEA PITCHER!
About Chelsea Pitcher
Chelsea Pitcher is a native of Portland, OR where she received her BA in English Literature. Fascinated by all things literary, she began gobbling up stories as soon as she could read, and especially enjoys delving into the darker places to see if she can draw out some light.

Her debut novel "THE S-WORD" is available now from Gallery Books/Simon & Schuster.

Website | Blog | Twitter | Facebook


THIRTEEN THINGS YOU MIGHT NOT KNOW ABOUT CHELSEA PITCHER
1. I have two cats: a white one named Aurora, and a black one named Janky. They pretend to be mortal enemies, but on more than one occasion I've caught them sleeping near each other when they thought no one was watching.

2. I once wrote an 84,000-word novel in a month.

3. Once, while singing "Pour Some Sugar on Me" at karaoke, the DJ actually did toss some sugar on me. He got up, sprinted out of the room, and returned with a sugar shaker that he sprinkled about the stage.

4. Aspects of THE S-WORD were inspired by FIGHT CLUB.

5. My favorite holiday is Halloween; I take costuming Very Seriously.

6. In my late teens, I read THE MISTS OF AVALON and ATLAS SHRUGGED. One of them is my favorite book of all time. The other is my least favorite.

7. My hair has been dyed blonde, brown, black, red, orange, magenta, purple and blue. But never green.

8. "Pan's Labyrinth" made me cry within the first three minutes.

9. I have an obsession with scoring 100% on video games (I'm currently working on Super Mario World).

10. My upcoming release (titled THE LAST CHANGELING) took me seven years to rewrite to my satisfaction.

11. By the time I was in high school, I'd been to six different schools.

12. I have traveled to Canada, Mexico and France.

13. Like Angie in THE S-WORD, my closest guy friend in high school was named Jesse, and he was quite nice. But the similarities between the character Jesse and the real Jesse end there.
***
Fight Club!!! I have a copy of THE S-WORD that I really need to get to but if you're not familiar with it, check it out below!
Title: The S-Word
Author: Chelsea Pitcher
Publisher: Gallery Books
Date of Publication: May 7, 2013
First it was SLUT scribbled all over Lizzie Hart's locker.

But one week after Lizzie kills herself, SUICIDE SLUT replaces it—in Lizzie's looping scrawl.

Lizzie's reputation is destroyed when she's caught in bed with her best friend's boyfriend on prom night. With the whole school turned against her, and Angie not speaking to her, Lizzie takes her own life. But someone isn't letting her go quietly. As graffiti and photocopies of Lizzie's diary plaster the school, Angie begins a relentless investigation into who, exactly, made Lizzie feel she didn't deserve to keep living. And while she claims she simply wants to punish Lizzie's tormentors, Angie's own anguish over abandoning her best friend will drive her deep into the dark, twisted side of Verity High—and she might not be able to pull herself back out.

Debut author Chelsea Pitcher daringly depicts the harsh reality of modern high schools, where one bad decision can ruin a reputation, and one cruel word can ruin a life. Angie's quest for the truth behind Lizzie's suicide is addictive and thrilling, and her razor-sharp wit and fierce sleuthing skills makes her impossible not to root for—even when it becomes clear that both avenging Lizzie and avoiding self-destruction might not be possible.
Purchase from Amazon | B&N | The Book Depository
Giveaway

Chelsea is giving away THE S-WORD! Open to US/Can residents only. Good luck!
a Rafflecopter giveaway

Thank you Chelsea for celebrating your debut year with us! Come back tomorrow here at Oops! I Read A Book Again as Danielle DeVor visits us! Now, go on to Michelle's blog for her feature on C.J. Flood!
Are you a 2014 debut author? Are you interested in participating for Celebrating Debutantes 2014? Fill out this form!