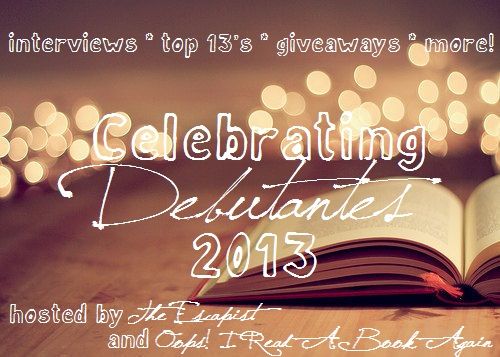 She not only debuted this year but she'd be releasing two books this year! Let's all welcome the author of Clicks and Jellybean Kisses, AMY EVANS!



I'm a Storyteller, Technology Evangelist, and Transmedia Content Producer. I specialize in taking a story and spinning it out over a variety of platforms. I began my career as a professional fangirl, sitting center at one of the largest talent agencies in the business. I still have nightmares about it, and I wouldn't trade them for the world.
My first novel - CLICKS - is out June 18th 2013.

INTERVIEW WITH AMY EVANS
What do you feel about the number '13'?

I think it's lucky, but I'm a born contrarian.

What's the best thing that happened after your book was published?

I got to be on a panel at UtopYAcon called "What a difference a year makes" and a picture of it went in Publishers Weekly, which is a magazine/website about the book industry. It's been a dream of mine to get in it, and while that wasn't exactly how I imagined it happening, the picture reminds me that dreams come true in all kinds of way if you make things happen for yourself.

How did you celebrate the publishing of your book?

I spent the day with a woman who used to run my company. She is a huge supporter and a no BS kind of a person. She kept me from flipping out, helped me focus back on what matters. We went to my daughter's school picnic and then out to lunch with my kids.

Do you read reviews of your book?

Yes every single one. I love them. I feel fortunate because they've been quite positive. But I learn from them all.

What is your best or most unforgettable moment with a fan?

Someone came up to me and was like I was up all night finishing you're book and you have to sign a copy for me. And I looked around, because I didn't realize she was talking about me. Then her mom came up a few minutes later, seperately but they hadn't seen each other since, and she told me that not only was her daughter up and reading all night, but she was cracking up and the mom wanted to read it too. That was amazing.

Was there any book/s from other debut author of 2013 that you loved?

I loved Not a Drop to Drink, One by LeighAnn Kopans, and Crazy Rich Asians.

Are you interested in writing in a different genre or for a different audience?

Yes definitely. My next book is a contemporary upper YA / New Adult romance. It all takes place in the real world, and it takes up the heat on romance. I kept CLICKS very clean for school inclusion because of the environmental themes. So even though it's romantic, it's written for readers twelve and up. JELLYBEAN KISSES is written for seventeen and up.

Share us one embarrassing moment you've had.

I asked Veronica Roth if she was messing with me when she asked to hear the pitch for my book and told me it was great. I was in an unstable time and felt sure she was messing with me. Now, I just feel stupid for not saying, wow, thanks for the kind words.

Favorite color? Green
Favorite movie? Grease Two
Favorite ice cream flavor? Mint Chocolate Chip
Favorite song? Forever Young
Ultimate celebrity crush (dead or alive)? Michelle Pfeiffer

What's next for you?

JELLYBEAN KISSES will be out this December and then ECHOES, the sequel to CLICKS.
***
LET'S GO EAT MINT CHOCOLATE CHIP ICE CREAM, AMY!!!! YUMMMMMM! It's my favorite as well. While chomping on some ice cream, let's go check out Amy's debut novel, CLICKS!
Title: Clicks (The Pinhold Prophecy #1)
Author: Amy Evans
Date of Publication: June 18, 2013
Clicks are the sounds the universe makes when it stops to tell you what's going to happen next. Truths you hear in your heart that you can't explain.

For sixteen year old Cami, the clicks won't stop. They're telling her to fall in love with the wrong twin, that her family is hiding something, and that Pinhold, her pristine Island home, is in danger.

Born and bred to win, Cami's family expects her to join a secret society called The Guard, marry one of the two identical twin boys next door, and stay on Pinhold Island for the rest of her life. Home to perfect waves, black sand beaches, and the world-famous Surf Carnival, Pinhold seems deceptively perfect. While visitors are jealous of the few hundred people who get to live there, Cami feels stifled. Thanks to the intense link she shares with her own twin, Mica, she can't even be alone with her thoughts. While Cami's more than happy to be a lifeguard, a lifelong commitment to the endless summer feels like a trap.

It should have been a fun summer of surf competitions and beach patrol. But dolphins are washing up on shore and the best swimmers are drowning. Then her twin brother Mica goes down too.

The only thing that can save her brother is the truth that only Cami can learn. But can she trust the clicks?
--

Clicks is the first novel in The Pinhold Prophecy - The fate of the world balances on the head of a pin.
Purchase from Amazon | B&N

Amy is giving away CLICKS and JELLYBEAN KISSES to one lucky winner! Open internationally.
a Rafflecopter giveaway

Thank you Amy for celebrating your debut year with us! Come back tomorrow here at Oops! I Read A Book Again as S.K. Anthony visits us! Now, go on to Michelle's blog for her feature on Gregg Rosenblum!
Are you a 2014 debut author? Are you interested in participating for Celebrating Debutantes 2014? Fill out this form!