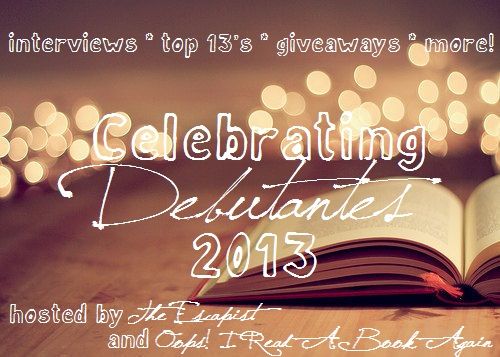 Celebrating Debutantes is celebrating the debut of ALISON CHERRY today! Let's all give her a warm welcome!
About Alison Cherry
I grew up in Evanston, IL, then went to Harvard and got a degree in photography. (Yes, that is possible. Although they like to call the visual arts "Visual and Environmental Studies," for some unknown reason.) Then I spent the next three years as a freelance lighting designer for various theaters throughout the Northeast. Eventually, I got tired of hanging out on ladders and wrestling with faulty electrical equipment for 80 hours a week while getting paid almost nothing. I know—shocking. I spent the next four years working as a photographer for the Metropolitan Opera. Now I live in Brooklyn and write full-time. My debut young adult novel, RED, is coming from Delacorte on October 8, 2013, and my next YA book is slated for the following fall. I'm represented by the lovely and amazing Holly Root at Waxman Leavell.
Website | Twitter
THIRTEEN THINGS YOU MIGHT NOT KNOW ABOUT ALISON CHERRY
1. I have the worst sense of direction known to man. I once went to Europe with three friends, and they navigated several countries by asking me which way I thought we should go and walking the opposite way. It worked every time.

2. I'm not afraid of snakes, spiders, or rodents, but I can't even think about scorpions without freaking out a little.

3. I can write a funny sonnet about pretty much any topic—in iambic pentameter, with the proper rhyme scheme—in 20 minutes or less.

4. I've seen both the pope and the queen of England in person, and both sightings were completely accidental.

5. If I went to Hogwarts, I would be in Ravenclaw and my patronus would take the form of a red panda.

6. Watching kids do choreographed dance routines makes me cry.

7. I was a photography major in college, and my favorite part was that I could make my friends do anything I wanted by telling them I needed pictures for a class project. I once made someone pour two-liter bottles of Pepsi over his head just because I thought it was hilarious.

8. I know three different words for "prostitute" in Latin.

9. I have never seen a Saturday morning cartoon or a single episode of Friends, Saved by the Bell, or 90210. We had a TV when I was growing up... I just had no interest in watching it.

10. I keep track of every book I buy and every book I read in a color-coded spreadsheet.

11. I've never even considered becoming a vegetarian, but for some reason, people always assume I don't eat meat.

12. Complete strangers like to tell me personal information about themselves. A man once cornered me in a bookstore and told me a ten-minute story about how he'd been shot in the ear the night before. He showed me the stitches and the blood on his pants as proof.

13. There's absolutely no violence in my novels, but whenever I try to write a short story, someone ends up getting stabbed at the end.
***
To make your friends do silly things is the best thing ever, isn't it? Hahaha! And as for my version of scorpions, they're frogs. GAH, gross. Hate them. Scared of them. Anyway, let's now check out Alison's debut novel, RED!
Title: Red
Author: Alison Cherry
Publisher: Delacorte Books for Young Readers
Date of Publication: October 8, 2013
Felicity St. John has it all—loyal best friends, a hot guy, and artistic talent. And she's right on track to win the Miss Scarlet pageant. Her perfect life is possible because of just one thing: her long, wavy, coppery red hair.




Having red hair is all that matters in Scarletville. Redheads hold all the power—and everybody knows it. That's why Felicity is scared down to her roots when she receives an anonymous note:




I know your secret.




Because Felicity is a big fake. Her hair color comes straight out of a bottle. And if anyone discovered the truth, she'd be a social outcast faster than she could say "strawberry blond." Her mother would disown her, her friends would shun her, and her boyfriend would dump her. And forget about winning that pageant crown and the prize money that comes with it—money that would allow her to fulfill her dream of going to art school.




Felicity isn't about to let someone blackmail her life away. But just how far is she willing to go to protect her red cred?
Thank you Alison for gracing Oops! I Read A Book Again with your presence and sharing about yourself! Come back tomorrow as Scott Blagden, author of DEAR LIFE, YOU SUCK, drops by!
Now, go on to Michelle's blog for her feature on Kristen Kittscher!
Are you a 2014 debut author? Are you interested in participating for Celebrating Debutantes 2014? Fill out this form!