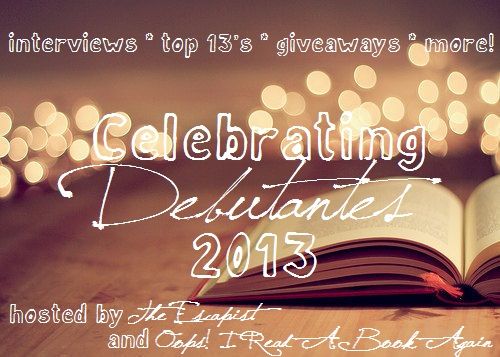 Wee! Today's my first post for Celebrating Debutantes 2013. If you wanna know more about CD, click on the banner to check my introductory post.
I am very honored to feature and start CD 2013 on my blog with this fabulous author. She wrote PRETTY GIRL-13, which was published by Katherine Tegen Books in the US. PRETTY GIRL-13 is now available in ten languages (WOW!) such as Czech, Slovakian, Swedish, Taiwanese, Brazilian, German and a whole lot more. Not only am I featuring this lovely author, she's also sharing 13 random facts about her and giving away her book! Let's all welcome LIZ COLEY to Oops! I Read A Book Again!
First, let's get to know her a bit more!
Liz Coley has been writing long and short fiction for teens and adults for more than ten years. Her short fiction has appeared in Cosmos Magazine and several speculative fiction anthologies: The Last Man, More Scary Kisses, Strange Worlds and Flights of Fiction.
In 2011, she self-published Out of Xibalba, a story that begins when the world ends. The same week that work launched, Liz sold dark contemporary psychological thriller Pretty Girl-13 to HarperCollins for US/UK publication. Overseas editions are available in nine translations.
Liz lives in the YA writing mecca of Cincinnati, Ohio with her husband and teenaged daughter, sans the two older boys who have flown the nest. Her hobbies include singing, photography, and baking. She plays competitive tennis to keep herself fit and humble.
THIRTEEN THINGS YOU MIGHT NOT KNOW ABOUT LIZ COLEY
1. I still have my yellow baby blanket and first pillow.
3. I know the secret recipe for Roy's chocolate soufflé which is so good it makes your toes curl.
4. I have a space rocket bank collection in my writer's garret.
5. I like cold Brussels sprouts. Really.
6. I can fall asleep after a double espresso. That's a problem.
7. I met the wife of the inventor of the atomic bomb in seventh grade.
8. I stole my friend's doll when I was four and secretly returned it the same day.
9. I have a terrarium that hasn't been opened in fifteen years. It's pretty scary.
10. If I had to pick one food, I could eat pizza every day for the rest of my life.
11. My first child weighed 10 1/2 pounds at birth. I am five foot two. Not a good combination.
12. I named my first cat "Black-under-the-chin."
13. The first year of Pretty Girl-13's publication brought all sorts of challenges, surprises, and rewards.
Getting the word out that a new book exists was the biggest challenge. So far, I've guest blogged 45 times, attended 8 bookstore signings, participated in 5 conferences or festivals, visited one book club, and done one TV interview.
The biggest surprises came in the form of media-mail packages containing copies of foreign editions. That's how I found out what they named my book in other languages: "Angie, 13 years disappeared," "Return from darkness," and "Tell me please, Who am I?" That's also when I saw the new cover art created in France, Taiwan, UK, and Russia. It's fascinating to see the face of the book reinterpreted for different cultures.
The sweetest rewards come from readers who have been touched by my story. I've had letters, emails, Facebook posts, and tweets from so many interesting people and places. The ones who stand out? An Australian high school student decided to go into the field of mental health after reading the book; a Czech nursing student decided to specialize in trauma and dissociation; with the help of a kind librarian, a boy in the juvenile system wrote me to share that through Pretty Girl-13, he had discovered the joy of reading.
Liz can do a headstand! I am floored. And she loves pizza. I love pizza. I can eat pizza forever. How about you? What do you think of these random tidbits about Liz? Sound off on the comments section below!
Moreover, let's check out her book!
Title: Pretty Girl-13
Author: Liz Coley
Publisher: Katherine Tegen Books
Date of Publication: March 19, 2013
When thirteen-year-old Angela Gracie Chapman looks in the mirror, someone else looks back--a thin, pale stranger, a sixteen-year-old with haunted eyes. Angie has no memory of the past three years, years in which she was lost to the authorities, lost to her family and friends, lost even to herself. Where has she been, who has been living her life, and what is hiding behind the terrible blankness? There are secrets you can't even tell yourself.




With a tremendous amount of courage and support from unexpected friends, Angie embarks on a journey into the darkest corners of her mind. As she unearths more and more about her past, she discovers a terrifying secret and must decide: when you remember things you wish you could forget, do you destroy the people responsible, or is there another way to feel whole again?




Liz Coley's alarming and fascinating psychological mystery is a disturbing—and ultimately empowering—page turner about accepting our whole selves, and the healing power of courage, hope, and love.
Liz is giving away a print copy of PRETTY GIRL-13! You can even choose if you want the US version, the Czech, French, Russian, Slovakian, Spanish, Taiwanese, UK, German, Brazilian or the Swedish one!
Thank you Liz for visiting my blog! I am giddy as a kid to have you here and I'm hoping I can read your book soon! I've read so many raves and hopefully, I'll be raving about it soon. *eyes my copy*
So that's it for my first Celebrating Debutantes 2013 post! You should go check out Michelle's blog for her feature on Alexia Casale. Come back tomorrow here at Oops! I Read A Book Again as Erin Bowman, author of Taken from HarperTeen, dishes out her 13 random facts!
Are you a 2014 debut author? Are you interested in participating for Celebrating Debutantes 2014? Fill out this form!