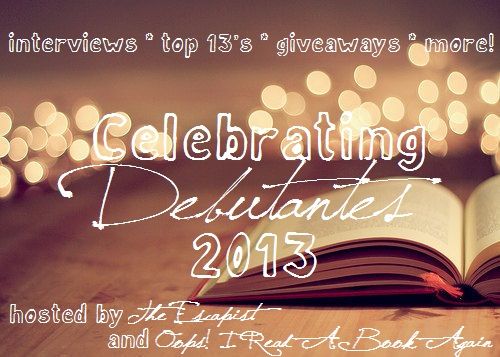 Yeehaw! Today, I am introducing you to the blog event I'm co-hosting until early January - CELEBRATING DEBUTANTES 2013. Celebrating Debutantes is an annual event started by Michelle of The Escapist last year that aims to highlight debut authors and their books. This year, I'm co-hosting it and we'll be featuring tons of authors every day until early January. Yes, you read that right, EVERY DAY. There will be lots of giveaways as not only are we spotlighting these debut authors, we are also celebrating their being published.
Authors will either share 13 random facts about themselves (yay for the number '13'!) or answer 13 questions in an interview as we want to know more about THE author. So expect some crazy and wild random tidbits about your favorite debut authors and stories of how they celebrated getting their book out in the world.
I will be updating this post every day with links to our posts so you can bookmark this as the awesomest page ever. (Maybe not the awesomest but admit it, it's pretty awesome.) But just see the line-up we have for you and the books you can win!
Today, Kasie West, author of Pivot Point and The Distance Between Us and the upcoming Split Second and On The Fence, visits Michelle's blog and shares 13 cool facts about her. She's also giving away a SIGNED copy of THE DISTANCE BETWEEN US. So head on over there and win!

Below, you can find the schedule and the links to the posts. Have fun getting to know our debut authors and winning!

And here's our button you can put on your blogs!