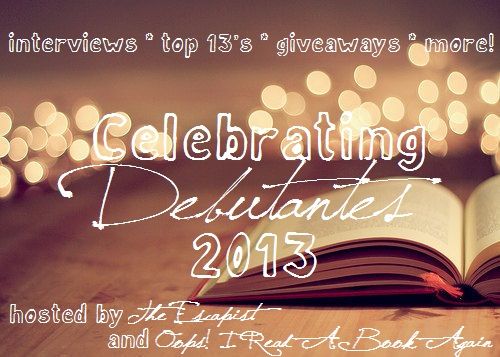 It's Day 3 of Celebrating Debutantes 2013 and I'm featuring my second author! Not just any author but THE author of TAKEN, one of my top anticipated 2013 books. Let's all welcome, ERIN BOWMAN!

First, let us read her bio and know the face behind TAKEN! And stay because she's sharing 13 things you don't know about her and giving away her book!
About Erin Bowman
Erin grew up in rural Connecticut, where she spent most of her childhood telling stories. It is rumored that her first words were not "Mama" or "Dada," but "Once upon a time." In middle school, when kids were going off to sleep-away camp for the summer, Erin was attending writing camp and penning short stories.

She studied web design (and minored in Creative Writing because she couldn't stay away from stories) at the Rochester Institute of Technology in upstate New York. After several years working in advertising and designing websites for various brands, she moved from Boston to New Hampshire, where she now lives with her husband and writes full-time.

When not writing, Erin can often be found hiking, geeking out over good typography, and obsessing over all things Harry Potter. She drinks a lot of coffee, buys far too many books, and is not terribly skilled at writing about herself in the third person.

She is represented by Sara Crowe of Harvey Klinger, and is the author of the Taken Trilogy (available from HarperTeen).
Website | Twitter | Tumblr
THIRTEEN THINGS YOU MIGHT NOT KNOW ABOUT ERIN BOWMAN


1. I'm a morning person, usually up between 6-7am.

2. All dresses and skirts should have pockets. Pockets make everything better.

3. I prefer the country to the city. (Although cities always do have the best food.)

4. My favorite season is fall. Give me apples and sweater weather and pumpkins and cider and chai lattes and golden leaves forever and ever.

5. I rewatch Firefly about once a year.

6. I read widely, but have a soft spot for dark fairytales.

7. Nothing makes me giddy like good typography and gorgeous hand-lettering.

8. I wanted to be a writer since the age of six, and still can't believe I am paid to make things up.

9. Current music obsession: Lorde.
10. Favorite series: Harry Potter. (Always.)

11. If I walk into a bookstore, it's inevitable that I will leave with one (or seven) new books in hand.

12. I really enjoy cooking, but this is a recent development.

13. I like odd numbers more than evens, and am happy this list ends at 13.
*raises hands* Dresses with pockets are THE best clothing EVER. Actually, I love everything about Erin's list and I practically nodded with every fact. Except being a morning person. Wow, you have to drag me out of bed every single day. So with that, let's check out her debut book, TAKEN.
Title: Taken (Taken #1)
Author: Erin Bowman
Date of Publication: April 16, 2013
There are no men in Claysoot. There are boys—but every one of them vanishes at midnight on his eighteenth birthday. The ground shakes, the wind howls, a blinding light descends…and he's gone.




They call it the Heist.




Gray Weathersby's eighteenth birthday is mere months away, and he's prepared to meet his fate–until he finds a strange note from his mother and starts to question everything he's been raised to accept: the Council leaders and their obvious secrets. The Heist itself. And what lies beyond the Wall that surrounds Claysoot–a structure that no one can cross and survive.




Climbing the Wall is suicide, but what comes after the Heist could be worse. Should he sit back and wait to be taken–or risk everything on the hope of the other side?
Title: Frozen (Taken #2)
Author: Erin Bowman
Publisher: HarperTeen
Date of Publication: April 15, 2014


The Heists were only the beginning.




Gray Weathersby escaped from the primitive town of Claysoot expecting to find answers, but what he discovered shook him to the core: A ruthless dictator with absolute power. An army of young soldiers blinded by lies. And a growing rebellion determined to fight back.




Now Gray has joined a team of rebels on a harsh, icy journey in search of allies who can help them set things right. But in a world built on lies, Gray must constantly question whether any ally—or enemy—is truly what they seem…
Pre-order from Amazon | B&N | The Book Depository
Giveaway
Erin is giving away an ecopy of TAKEN or if you've read TAKEN already, a pre-order of an e-copy of FROZEN! Guys, I tell you, you have to read TAKEN! And if you've read it, GAH, I know, right? I can't wait for FROZEN and the novella, STOLEN! Good luck!
Thank you so much Erin for participating in CD 2013 and stopping by my blog! Can't wait for STOLEN and FROZEN! Check out Michelle's feature today on Jack Croxall, author of TETHERS!
Are you a 2014 debut author? Are you interested in participating for Celebrating Debutantes 2014? Fill out this form!