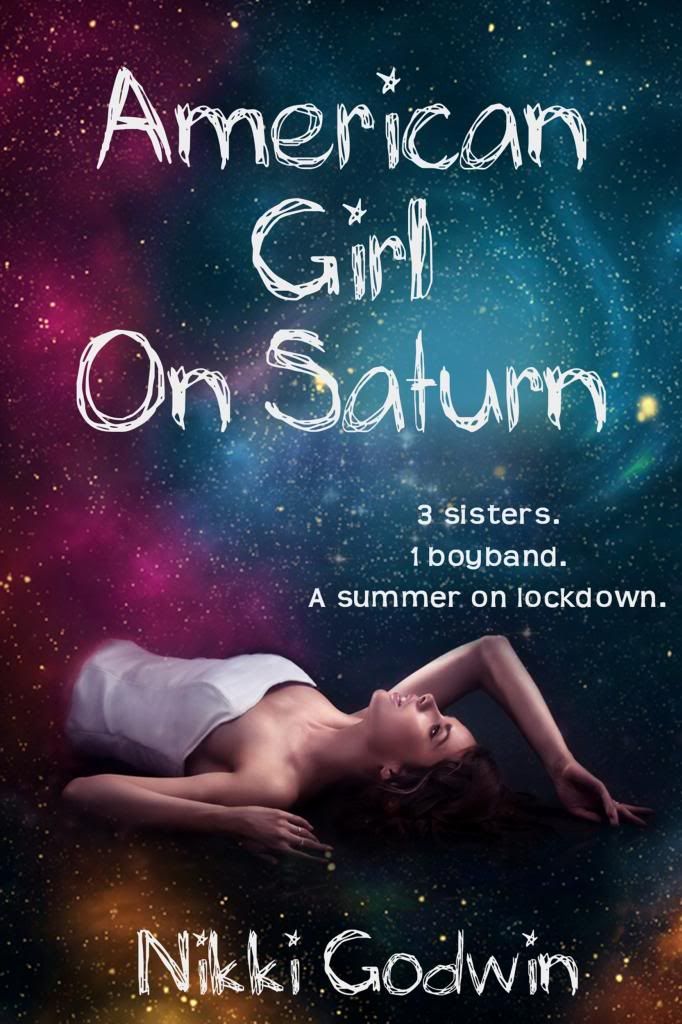 Title: American Girl on Saturn
Date of Publication: August 29, 2013
The summer after graduation is supposed to be that first real taste of freedom - but not for eighteen-year-old Chloe Branson. Just as that breeze of freedom is making its way into her galaxy, her secret-service-agent dad drops a meteor-sized bomb of bad news on her and her sisters. An attempt has been made on the lives of Canadian boyband, Spaceships Around Saturn, during their USA tour, and the guys have to go into hiding ASAP. The only problem? In the midst of the crisis and media frenzy, their dad volunteered to hide the guys...in their house.




Six-year-old Emery is as ecstatic as any self-proclaimed Saturnite would be, but Chloe and her seventeen-year-old sister Aralie watch their summer plans crash and burn like a falling star. The SAS guys aren't happy with the situation, either. Bad boy Jules picks fights with Aralie about everything from his Twitter followers to his laundry, and heart-throb Benji can't escape Emery's fangirlisms for more than three minutes.




But after the super-cute Milo kisses Chloe during a game of hide-and-seek, she finally understands what Emery means when she talks about SAS being "out of this world." If this is what Saturn feels like, Chloe doesn't want to come back to earth.
Benji Baccarini is a Twitter addict so I tried to ask for a Twitterview with him. Answers in 140 characters or less. And he agreed! I am now squealing in delight because I got to interview a member of Spaceships Around Saturn. And now, I present to you, my Twitterview with Benji Baccarini!
Twitterview with Benji Baccarini
@Benji_Baccarini Hi Benji! Welcome to Oops! I Read A Book Again! I'm so happy and honored and spazzing to be interviewing you. *blushes*
@oopsireadagain Thanks for having me! Let's get #Saturnized!
@Benji_Baccarini Let's get down to it before I faint from giddiness! Can you tell us something about yourself you haven't told Twitter yet?
@oopsireadagain Hmm. I don't mind watching chick flicks. But that's a secret. #Shhh
@Benji_Baccarini I didn't think I can love you more. #swoon How do you spend your free time? What sports do you play?
@oopsireadagain Writing lyrics, hanging with friends, going to the movies... I don't play sports, but I do play the piano!
@Benji_Baccarini The piano! #swoon We were really worried when someone shot SAS during your concert. Was it traumatizing?
@oopsireadagain Honestly, I thought a speaker blew til Tank pulled me offstage & security started running crazy. I didn't know til later.
@Benji_Baccarini Then you were put in a lockdown with the Branson sisters. #jealous What was your first impression of the Branson sisters?
@oopsireadagain Chloe - pretty, sweet, shy. Aralie - probably will kick my ass, might be cool though. Emery - God help me. #SaturniteHell
@Benji_Baccarini So who's your favorite Branson sister then? #IWantToBeABransonSister
@oopsireadagain I'd probably have shots fired at me again if I didn't say Emery. So... EMERY!
@Benji_Baccarini More lockdown questions! We know how much you love Twitter. How did you cope without Twitter during lockdown?
@oopsireadagain That was misery! Note cards & the fridge helped. But it wasn't the same. #TwitterWhore #ThanksAralie
@Benji_Baccarini What was your favorite part of lockdown?
@oopsireadagain Sleeping! We never sleep that much during a "tour."
@Benji_Baccarini What was your least favorite?
@oopsireadagain #SaturniteHell and being disconnected from reality. I missed my cell phone! and Twitter!
@Benji_Baccarini Poor Benji baby. *hug* Everyone and their moms are interested in your tattoos. By the way, who got you into tattoos?
@oopsireadagain I blame my Saturn brother Noah for that. I'd always wanted one. He got me hooked on tats.
@Benji_Baccarini Out of your twenty-seven tattoos, which is your fave?
@oopsireadagain My Saturn tat bc it symbolizes living my dream (of music) & gaining my 4 brothers
@Benji_Baccarini If you were getting a tattoo to symbolize the lockdown, what would it look like?
@oopsireadagain The planet Saturn with a lock hooked around the rings. Or Emery's face since it was always in my face! haha!
@Benji_Baccarini We wanna know the Benji before SAS. How was your life before Spaceships around Saturn?
@oopsireadagain Boring! I was a waiter living the starving artist lifestyle with a lot of lyric notebooks and a lot of dreams.
@Benji_Baccarini I would've sat in your section everyday and tipped you generously. Is there something you miss about your life from before?
@oopsireadagain Little things - going shopping w/o being noticed, being able to leave the house w/o security, basically privacy
@Benji_Baccarini What was the biggest change in your life SAS brought?
@oopsireadagain Wow. So many. More $, ha! My whole world has flipped. Literally, everything.
@Benji_Baccarini What's the best thing about being famous?
@oopsireadagain Living my dream, making music that people love, sharing my life with amazing people


@Benji_Baccarini Is there something you don't like about being famous?
@oopsireadagain Basically what I've already said - lack of sleep, lack of privacy, but it's all good! It's worth it!
@Benji_Baccarini What's your favorite song?
@oopsireadagain Right now, "Mirrors" by Justin Timberlake
@Benji_Baccarini What's your favorite color?
@oopsireadagain Lime green
@Benji_Baccarini What's your favorite book?
@oopsireadagain I don't read much, but Noah keeps whispering for me to say #AmericanGirlOnSaturn by @NikGodwin
@Benji_Baccarini Oh, I love that book! It's rivaling my love for SAS. Haha! Favorite ice cream flavor?
@oopsireadagain Ha, I've actually grown to like Moo-llennium Crunch. I blame the Branson family!
@Benji_Baccarini Who's your ultimate celebrity crush?
@oopsireadagain That would be @katyperry! She's super hot and incredibly talented!
@Benji_Baccarini Who do you look up to as an artist?
@oopsireadagain Milo and I are slightly obsessed with @BrunoMars. He's insanely talented.
@Benji_Baccarini For the ultimate bromance. Are you friends with One Direction? Who's your favorite One Direction member?
@oopsireadagain I haven't actually met them yet, though I want to. I'd love to hang with @Real_Liam_Payne. He seems pretty chill.
@Benji_Baccarini What's next for Benji Baccarini? What's next for Spaceships Around Saturn?
@oopsireadagain Promoting the new album, touring, hopefully not getting shot at again! #FingersCrossed
@Benji_Baccarini I don't want to ask this question because I don't want my heart to break but do you have a girlfriend? Dating someone?
@oopsireadagain I am completely, totally, 100% single
@Benji_Baccarini Whew. Haha! Are you open to dating a fan?
@oopsireadagain Most def, as long as she wasn't the crazy stalker type. I can't handle people creeping at my bedroom window.
@Benji_Baccarini I volunteer! I volunteer as tribute and as your girlfriend, nyaha! Any message to all my Saturnite readers?
@oopsireadagain To quote my brother Milo, you guys are the best fans everrrrr!
@Benji_Baccarini Any message for me? Haha! Totally kidding (not)!
@oopsireadagain I think we're Twitter soul mates. We have the same avatar. ;) #BenjiHeartsDianne
@Benji_Baccarini I think it's fate. #DianneHeartsBenji Thank you so much for giving us your precious time, Benji! We love you!
@oopsireadagain Thank you for having me! I love all of our Saturnites across the world! #BestFansEverrrrr


Nikki Godwin is a Young Adult/New Adult author. She is a city girl who can't live without Mountain Dew, black eyeliner, Hawthorne Heights, and candles from Bath & Body Works. When not writing, she's not-so-secretly stalking her favorite bands. She may or may not completely love One Direction.