So last Saturday, August 3, 2013, one of the highlights of my book blogging life happened. I met Kiera Cass, author of The Selection and The Elite! I even got to ask her a question! I know this recap is a bit late but I was still in disbelief right after the event that I. MET. KIERA. CASS. I've been to Tahereh Mafi's signing too but I guess I was too shy and nervous then and I wasn't able to bring a camera so I wasn't able to take pictures. Moreover, I was so busy with my thesis then that I wasn't able to post a recap. Anyway, enough with me justifying myself. Pictures or it didn't happen? Here are lots of photos!
There were SO MANY people. More than 600 people were there and it was noisy and fun and even hot but WOW. It's amazing how much Filipinos and teens love reading!
Here is Kiera during interview! Did you know that Kiera actually CRIED when she saw how many people came to her signing and how everyone was screaming and whooping and yelling? It was also her first time outside of the States so she was so overwhelmed. A little bird told me that she even asked to see how long the line was for her signing in the morning. I can only imagine how happy she was and of course, everyone was so happy with her right in front of us.
So after the interview, BOOK(S) SIGNING! Below are some pictures of Kiera signing books! On the left, that's actually Louisse she's signing for!
(L:
Photo credits to Louisse of
The Soul Sisters
; R: Photo credits to Sab of Sab The Book Eater)
So the highlights of my day are:

1. Meeting fellow bloggers and The Selection Philippines! Pictured below are us with such big smiles and Kiera!
2. Getting my books signed! Meeting Kiera! Hugging her! I also asked her a question. It was:
If One Direction existed in the world of The Selection series, who do you think would be America's favorite and why?
Do you know what she answered? She said America would be a girl after her own heart so it would be HARRY STYLES! So obviously, I'm a big One Direction fan as well so I asked a question which will involve both fandoms.
3. Meeting @mrcassbah! Here he is at the back just watching the love of his life in an interview and Sab sneakily taking a picture of him.
And here they are being SO SWEET! Kissing, tugging their ears, hugging and he's even sitting in Kiera's lap! Oh, these two. What a supportive hubby!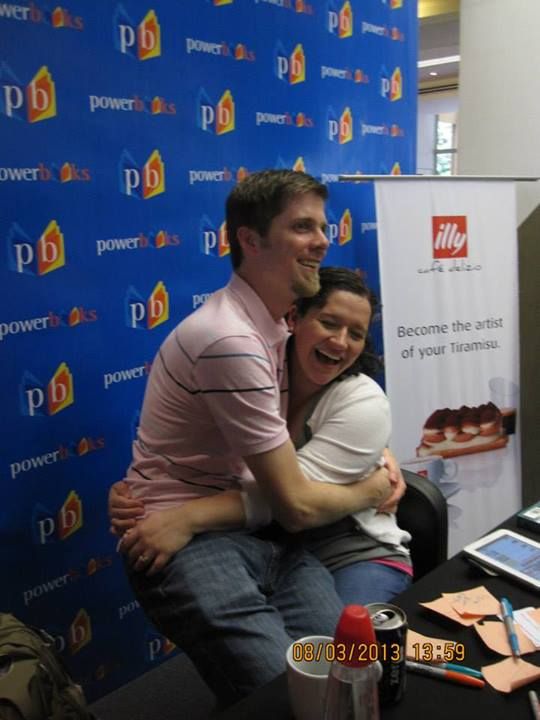 4. Lastly, of course, my precious signed books! <3

Thank you so much to Chad and JB and all of National Book Store for bringing Kiera Cass to Manila and for letting me meet her. YOU ROCK, NATIONAL BOOK STORE!
And because National Book Store is so awesome, they're also bringing THREE YOUNG ADULT AUTHORS this September! For more details, click on my post HERE!