Today is a cool day because I'm spotlighting In a Heartbeat, I have a guest post about Italy with pictures of Teodora and an INTERNATIONAL giveaway! So yes, please stay with me and let's get to know In a Heartbeat!
Title: In a Heartbeat (Heartbeat #1)
Author: Teodora Kostova
Date of Publication: March 31, 2013
Stella




"I've been in and out of hospitals for the past ten months. I've had half my liver removed and even though this time the doctors are very optimistic that they've removed all of the tumours, they can't be sure. In another three months they want me here again for a check up. Right now I feel better than I've ever felt. I know the damn thing is gone, at least for the moment. Despite that, I can't make any plans for the future, not yet. I need to go somewhere where nobody knows me, where I can relax and maybe even forget about all this. Where I can meet people who don't think of me as the girl who lost her father and her brother in a car accident, and who has cancer. I want to have fun, even if it's for a couple of months."




When Stella decides to visit her estranged cousin Lisa in Genoa, she has no idea Italy will give her a new reason to live.




Max




"Her gaze locked on a scene so beautiful, the picturesque beach paled in comparison. A lifeguard emerged from the water, his orange trunks stuck to his legs and water dripping all over him. He shook his head to get rid of some of the water in his hair and Stella felt as if everything started developing in slow motion – tiny drops of water slid from his neck down his broad chest and muscular arms, along a weaving tattoo on his right shoulder, and continued downwards towards his chest and washboard stomach, finally getting lost in the waistband of his trunks. A part of another tattoo peeked over his trunks on his left hip, the other part hidden under them. It was a total Baywatch moment."




Their love is epic. But there are too many things keeping them apart.




"How could you keep this from me, Lisa? If you had told me the first day I met him, I would have avoided him like the plague. Nothing would have happened between us."

"I kept your secrets, too, Stella."




Are Max and Stella strong enough to fight not only for their love, but for their lives?
Guest Post
I remember the very first time I set foot in Italy like it was yesterday. When the doors of the airplane opened and the humid, suffocating, hot air blew in my face, one word appeared in my mind like a huge neon sign – home.
I fell in love straight away. I love everything about this amazing country – the weather, even when it's so hot you can barely breathe; the food; the contagiously passionate people; the laid back attitude; the little quirks and details of everyday life... I can go on forever, because this country truly fascinates me and I can't wait to get to know it even better.
I just came back from Italy, I can't seem to stay away for too long. A few months away and I'm itching to go back there, even if it's just for a long weekend. This time I combined research for my next book, spending some quality time with my sister who flew there from Germany and going to a 30 Seconds to Mars concert. I can safely say those were some of the best 4 days in my life.
I really hope I've managed to make my readers interested in Italy as a country and have succeeded in describing the unique atmosphere that surrounds everything and everyone. When the story of In a Heartbeat came to me, I had no choice but to set it there. I never planned it, it just didn't fit anywhere else in the world. Genoa is an incredible city and it suited my story perfectly. I don't think the effect of Stella and Max's story would have been quite the same if I had set the book in London, my home town. Putting sexy Italian guys, hot weather and romantic setting on wide side of the scale versus grey, cloudy sky, rain and hurried, closed off way of life on the other – it was a no brainer which I'd choose. Wouldn't you?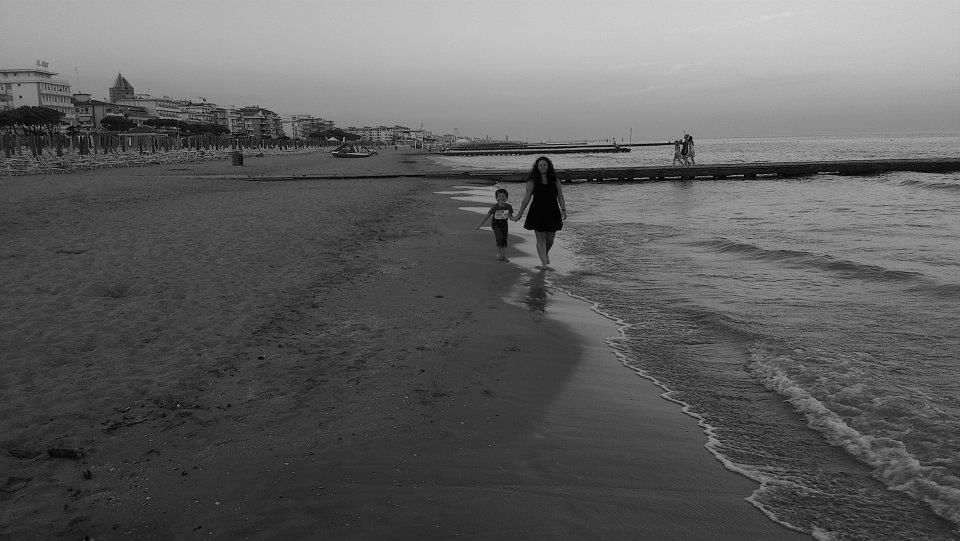 (1) Prato della Valle in Padua - the biggest square in Europe, used to be a Roman theatre and later became the place where all single men in Padua used to gather. Not much different nowadays. It's bursting with life up until well over midnight. (2) In Padua city centre. (3) the beach in Lido di Jesolo, me and my son Jason.
About Teodora Kostova
Hi, my name is Teodora and I live in London with my husband Ted and my son Jason. I've been writing ever since I can remember, but it became my full time job in 2010 when I decided that everything else I've tried bores me to death and I have to do what I've always wanted to do, but never had to guts to fully embrace. I've been a journalist, an editor, a personal assistant and an interior designer among another things, but as soon as the novelty of the new, exciting job wears off, I always go back to writing. Being twitchy, impatient, loud and hasty are not qualities that help a writer, because I have to sit alone, preferably still, and write for most of the day, but I absolutely love it. It's the only time that I'm truly at peace and the only thing I can do for more than ten minutes at a time - my son has a bigger attention span than me.
When I'm procrastinating, I like to go to the gym, cook Italian meals (and eat them), read, listen to rock music, watch indie movies and True Blood re-runs. Or, in the worst case scenario, get beaten at every Wii game by a five year old.
Giveaway
There will be five winners and this is an international giveaway! One will win a signed paperback, one will win a swag pack and there will be three winners of an ebook copy in their preferred format! Go join!