Today, I'm spotlighting Catching Liam by Sophia Bleu! I also have a giveaway for some swag open internationally! So go check out this new contemporary NA romance from Sophia!
Title: Catching Liam (Good Girls Don't #1)
Author: Sophia Bleu
Date of Publication: July 8, 2013
Genre: contemporary NA romance
Twenty-one year-old Jillian Nichols only has one rule when it comes to boys: catch and release. Boy-catching isn't just a game for Jillian and her friends, it's a lifestyle. After all, boys might be good for a dance or a drink and certainly a little under-cover action of the scandalous variety, but expect much else and you're bound for heart ache.




So when her best friends and fellow boy catchers start dropping like flies junior year, Jillian is determined to keep boys in her bedroom and out of her heart. Until she meets Liam McAvoy, the kind of guy that sticks around to make waffles and who can't—or perhaps won't—take a hint.




Study abroad student Liam doesn't want to be another notch on Jillian's bedpost. Actually he has much more interesting ideas for Jillian and her bedposts, but his student visa's set expiration date means he can't promise her forever. That doesn't mean he's going to walk away from the challenge of discovering why Jillian is hell-bent at keeping people at a distance.




Before long, neither is sure who is catching who—or if they're playing for keeps. Jillian knows one thing though: falling in love will not only break the only rule of boy-catching, it could also break her heart.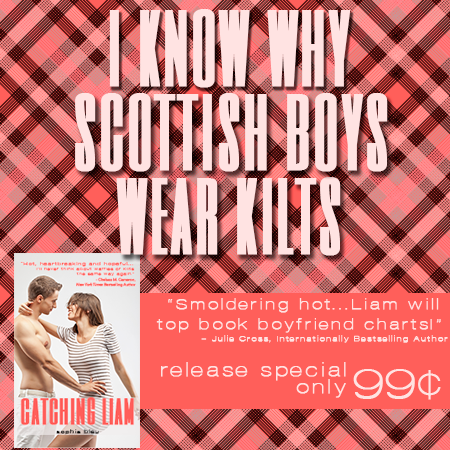 $0.99 for one week! July 8-July 15!
Guest Post
Liam's "Caught You" Waffles
4 teaspoons baking powder
2 tablespoons white sugar
Secret ingredient #1: 1 teaspoon vanilla extract
Secret ingredient #2: 1 teaspoon of ground cinnamon

Directions

This recipe will make about 10-12 waffles. The perfect amount to impress any roommates that straggle in, or to feast on if you've pulled an all-nighter.

1. Preheat waffle iron to desired temperature. I like it really hot. I know, I know. That's what she said. Now would be a good time to make sure you push the iron far enough back on the counter to avoid any burns through accidental contact of your hands...or other areas.

2. In a large bowl, sift together flour, salt, baking powder and sugar, and I do mean sift. Don't just throw it all in the bowl. You have to give it a little attention. Mix it up a little. Don't just set it aside.

3. In a separate bowl, beat the eggs. Here's my trick. If your girl's still sleeping, separate the eggs first. Whip the egg whites like they've been naughty until soft peaks form. Stir in the milk, yolks, butter and vanilla. Pour the milk mixture into the flour mixture. Mix together until combined, but don't overdo it. Too much attention and they'll come out tough instead of crisp and slightly chewy.

4. Ladle the batter into a preheated waffle iron. Don't get burned. Cook the waffles until golden. Refrain from getting distracted with extra-culinary activities.

5. Serve before she or the waffles get cold.
About Sophia Bleu

Sophia Bleu is a secret identity where I can write about fantasies and falling in love and all the smexiness in between. In real life, I'm likely catching a plane, chasing kids, or making out with the love of my life—all 6 ft 3 inches of hotness that he is. Life is pretty good.

Website | Twitter | Facebook
Giveaway
a Rafflecopter giveaway
Seriously guys, go read this. Have you read the blurbs??? Jennifer L. Armentrout, Julie Cross and a whole lot more!
"One of the swoon-worthiest male leads to date, Catching Liam is a sexy and sweet romance that stayed with me long after I finished the book. Completely unexpected. Move over Cam, because Liam is to drool for. " - Jennifer L. Armentrout, #1 New York Times Bestselling Author of WAIT FOR YOU
"A hot, heartbreaking and hopeful story that had me from the first steamy chapter. I'll never think about waffles or kilts the same way again..." - Chelsea M. Cameron, New York Times Bestselling Author of MY FAVORITE MISTAKE
"CATCHING LIAM will delight anyone with a pulse. Bleu gives us a confident yet vulnerable heroine matched with the perfect hero in sexy Scot Liam, who made me believe, if only for the duration of the book, that perfect men really exist. The two of them crack and pop with chemistry, sweetness, and the kind of anticipation that kept me turning pages until I ran out." - Lyla Payne, USA Today Bestselling Author of BROKEN AT LOVE
"Funny, sexy, and page turning...Sophia Bleu knows how to write a smoldering hot and emotional love story. Liam will top book boyfriend charts for sure!" - Julie Cross, International Bestselling Author of The TEMPEST series"
"Hilarious, heartbreaking, and sizzling hot, CATCHING LIAM is a beautiful love story that will stay in my heart forever. " - Alessandra Thomas, author of PICTURE PERFECT
"Sweet, funny, and incredibly sexy, Catching Liam has it all, including delightful insider information about what Scottish men hide under their kilts. I highly recommend Sophia Bleu's debut novel to fans of Cora Carmack and Alice Clayton and anyone looking for a read that shows real emotional depth while remaining light, entertaining, and hot with a capital H." - Laurelin Paige, Author of FIXED ON YOU