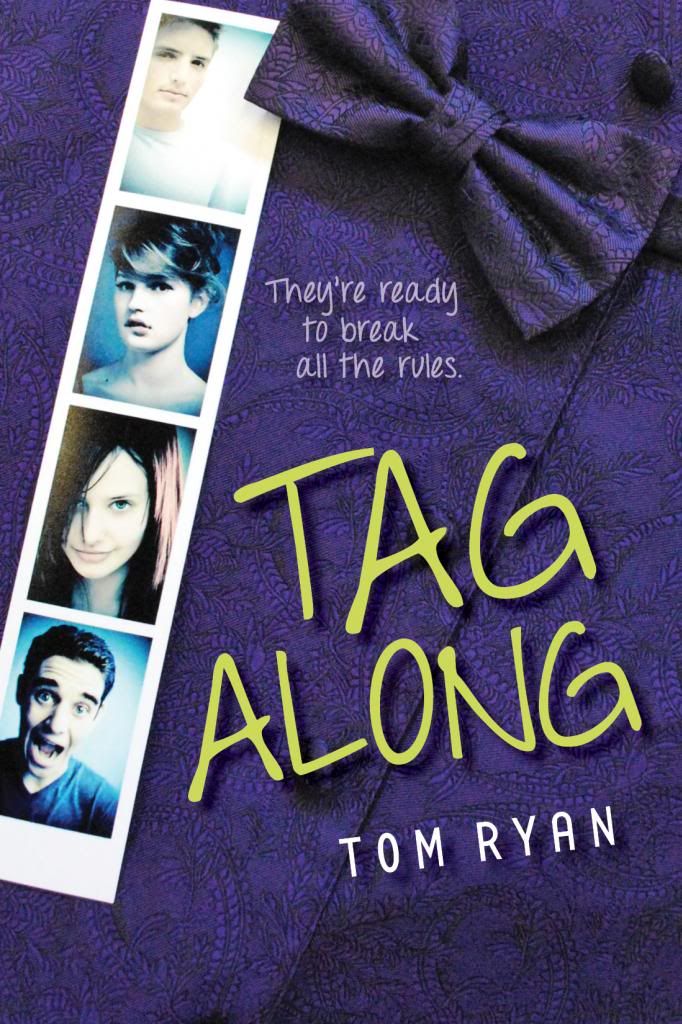 Title: Tag Along
Author: Tom Ryan
Publisher: Orca Book Publishers
Date of Publication: October 1, 2013
It's junior prom night. Andrea is grounded, Paul is having panic attacks, Roemi has been stood up, and Candace is trying to avoid one particular cop. Over the course of eight eventful hours, paths are crossed, plans are changed, messages are mixed, and four near strangers form some unlikely bonds.
"The inspiration behind TAG ALONG was my love of 'teen movies,' in particular the John Hughes classics from the 80s (Ferris Bueller, The Breakfast Club, etc…) and the many fantastic "one night in teendom" epics from the 90s. It's always been one of my favourite plot structures to follow several people around over the course of one night, and I decided to attempt my own story based on that very idea." --Tom Ryan
If you know me guys, I love novels told in multiple point-of-views. It just gives more depth, angles and nuance to the story when you see what other characters were thinking at the same time. More than that, I love stories where strangers meet and hijinks ensue. Love it so much. Especially if it happens in 24 hours or less. Then stamp in contemporary YA to that novel and I am pretty much salivating here. So I thank the gods that be for making me so lucky that I am hosting Tom Ryan's cover reveal. I am so honored for Tag Along's cover to be revealed in my blog. So without further ado, here's an excerpt!
Excerpt
TAG ALONG is a story told from multiple perspectives. Each of the first chapters is told from a different character's perspective. The first chapter of the three other characters are found in three other blogs. Here at Oops! I Read A Book Again, I have Candace's first chapter. Hope you enjoy!
Add TAG ALONG on Goodreads by clicking on the cover!
About Tom Ryan
TAG ALONG (Orca Book Publishers) is Tom Ryan's second novel. His debut, WAY TO GO (Orca Book Publishers), was published in 2012 and was chosen for the ALA's Rainbow List of notable 2012 titles for and about LGBT youth, the ALA's Quick Picks List, The OLA's Best Bets List of the top ten YA novels in Canada for 2012. WAY TO GO was also a nominee for the White Pine award.
Giveaway
There will be one winner of a signed/personalized ARC of Tag Along! You can ask Tom whatever you want him to write on it! This giveaway is open to people with US or Canada addresses only. You have until June 30 to join so good luck!