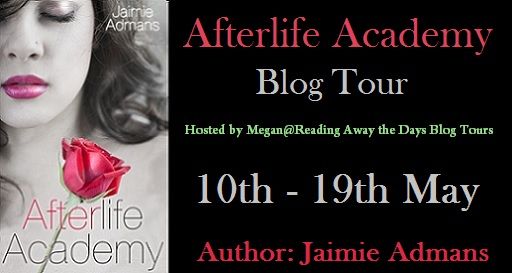 Today, I have a review and a giveaway of Afterlife Academy by Jaimie Admans! Not only that but I also asked her dream movie cast and she's graciously sharing it here in my blog. Come join us in the Afterlife Academy blog tour!
Title: Afterlife Academy
Author: Jaimie Admans
Date of Publication: March 15, 2013
Even being dead isn't enough to get you out of maths class.




Dying wasn't on sixteen-year-old Riley Richardson's to-do list. And now, not only is she dead, but she's stuck in a perpetual high school nightmare. Worse still, she's stuck there with the geekiest, most annoying boy in the history of the world, ever.




In a school where the geeks are popular and just about everything is wrong, Riley has become an outcast. She begins a desperate quest to get back home, but her once-perfect life starts to unravel into something not nearly as great as she thought it was. And maybe death isn't really that bad after all...




Welcome to Afterlife Academy, where horns are the norm, the microwave is more intelligent than the teachers, and the pumpkins have a taste for blood.
Review
My Rating: 4 out of 5 stars
Now, this is a unique case where I want a standalone to be a series! Riley and Anthony's predicament and the unique setting that is Afterlife Academy have tons of potential and possible plots, conflicts and stories that must be told and explored. Jaimie, pretty please?
Riley's the popular girl in school until she dies, along with Anthony the geek and outcast. In an accident caused by her boyfriend Wade. In a reversal, it's Riley's turn to be the outcast at Afterlife Academy, where Anthony's one of the popular ones. The Afterlife Academy is where all those who died before finishing school go to, to yes, study. Who says dead people don't need education? Here they study all sorts of awesome stuff like how to see their loved ones without getting caught and all ghostly stuff.
Yes, the Afterlife Academy is gold. Jaimie has written such a fresh and fantastic take on ghosts and everything was so juicily good! Admittedly, the only thing I have against this novel is that it took me some time to like Riley and root for her. She's whiny and a brat and a bully but you know Karma's gonna come for her. It's always nice to see someone being pegged down a bit.
Overall, I enjoyed Afterlife Academy and Jaimie, I am begging you, please write more about this world, okay? I will love you all the more for it. Hee. Now, check out Jaimie's dream movie cast for Afterlife Academy!
Dream Movie Cast
I see Riley as quite small and pretty. I actually intended for her to be blonde, but her hair ended up being brown with blonde highlights. She's a cheerleader-type and before she died, she wanted nothing more than to be a prom queen. For the dream casting, I was actually torn between Jennifer Lawrence and AnnaSophia Robb. I eventually went with Jennifer because Riley isn't as put-together as she thinks she is. She's quite naive and clueless, and Jennifer's trip at The Oscars is exactly the sort of thing that would happen to Riley. She's not perfect and she's a bit awkward, isn't she? She's very popular at the moment, and she'll always be Katniss to me, and you'll just have to ignore her age because she's a bit older than Riley is in the book!
Anthony is tall and lanky. He's got long, untidy hair, glasses, and a fondness for maths and science. His hair was always a dull brown, well, until he dies and it turns grey! He's a bit awkward, he's never fitted in with the popular crowd, and I always picture him as trying to make himself seem small to not be noticed by the people who pick on him.
But, he's hotter than he thinks he is. Riley starts to realise that, although she's hated him for years, she's never actually looked at him before. Maybe there's hottie potential hiding behind the unkempt hair and don't-look-at-me stance.
Anthony is really easy to cast as I had this guy in my head while I was writing him – Jamie Campbell Bower. He plays Caius in Twilight and I knew him as Anthony in Sweeney Todd (the name may be why I pictured him when I was writing it!) Again you'll have to ignore his age as he's a bit older than Anthony is supposed to be!
About Jaimie Admans
Jaimie is a 28-year-old English-sounding Welsh girl with an awkward-to-spell name. She lives in South Wales and enjoys writing, gardening, drinking tea and watching horror movies. She hates spiders and cheese & onion crisps. She has been writing for years but has never before plucked up the courage to tell people. Afterlife Academy is her third novel and she hopes you enjoy it. There are plenty more on the way!
Giveaway