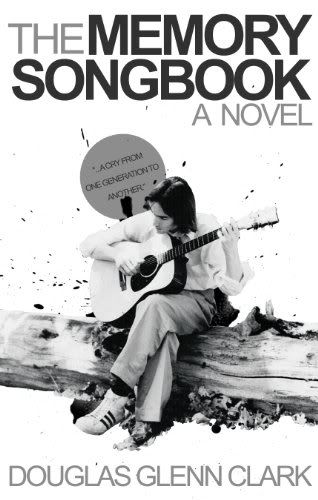 Title: The Memory Songbook
Author: Douglas Glenn Clark
Genre: contemporary fiction
At 17 … Frank didn't think he had a past.
Then he found himself chasing his forgetful, wandering grandfather into the 1950s, the 1940s and as far back as the days of gas lamps and folksinger Leadbelly. It was then, confronted with poignant family revelations and one great song, that young Frank began to realize who he really was.


At 50 … Frank doesn't believe he has a future.


Then, on the verge of restoring his singer-songwriter career, he is called home to assist his aging mother who suffers from memory loss and other ailments. Like many baby boomers, he wants to be there for his parent … and yet feels helpless.


But while cleaning, he discovers a manuscript he wrote after one mind-bending day in the Summer of Love. It was the day he discovered the powerful music-memory connection: songs have the power to bring back the memories and feelings that have shaped the best moments of our lives.


Desperate to reach his mother before she slips away … and yearning for the awe music once inspired in him … Frank works through his own personal songbook in search of who he was — and who he still might become.


The Memory Songbook shifts between the winter and summer of singer-songwriter Frank Gosnell's life. It is what Midwest Book Review contributor Shirley Priscilla Johnson calls "… a cry from one generation to another …"
Are you a baby boomer assisting a parent or senior citizen who suffers from memory loss? Music boosts memory. Are you a musician and songwriter who recognizes that great songs create indelible moments? The first memory of music shapes minds and hearts.
Do you ever daydream about your first true love … and wonder?
The Memory Songbook is about the strong music-memory connection. One aspect of the story revolves around singer-songwriter Frank Gosnell's attempt to connect and restore what dementia and Alzheimers Disease so often destroy.
Babyboomers, Classic Rock & the Music-Memory Connection
She died in the wee hours of New Year's Day 2011 in a hospice room. She wanted to go and had prayed to her Lord to take her. He was slow to heed her call. She could not understand why.
I wish I had asked Lois Jean Clark, my mother, more about her life. We think we know our parents and then they leave this Earth and we realize how many questions we forgot to ask.
Lois played the French horn in high school, but didn't pursue music. Instead, she married a gifted musician named Robert who believed there was no greater experience than playing music in an ensemble, concert band or jazz ensemble. The incomparable group experience, as he saw it, did not include rock 'n' roll bands — my preference.
The Memory Songbook is not a memoir. It is fiction. It was not written in anticipation of my mother's passing. Nor was it written for my father, who passed away in 1990. I wrote it because life is short and there are so many things we wish we could remember about those people we love.
I also wrote my book because music defines my life in a deeply emotional way. Songs, melodies, symphonic compositions take me back to events that shaped my heart and mind. They trigger memories I might otherwise forget.
If Mom were still alive I would ask her, "What songs were you listening to when you fell in love with Dad?" Many other questions would follow.
Some of the questions might also address our struggles.
Nearly every baby boomer I know has dealt with or is dealing with a parent of failing capacity. Time catches up. Time flies. Time is an illusion or a master or – a precious paradox: the world carries on yet each of us is born with an expiration date.
All the more reason to stay alert to the songs that help us gather the very best memories of lives well lived.
About Douglas Glenn Clark
Simple values guide my work as a writer. My father was a musician. Music was the language of my formative years. I found my song in words.
I began playing guitar at a young age. My father would have preferred that I stay with trumpet. But you can't simultaneously sing or speak when playing the trumpet. Guitar became an all-encompassing sensual experience: the chords resonated through my fingers to my body. I soon discovered that well-chosen clusters of words that appeared at the nib of my pencil or pen had the same power to move me.
My stories aspire to the emotional accessibility and fluidity of song.